Haven't you heard of the band Les Romantics? It´s a true institution on the island: this legendary orchestra has earned its reputation not only for its well-known musicians, but also for the quality of the music. Bruno Magras, one of its players that we all know quite well, tells us about it with great pleasure and passion.
The band was created thirty years ago by Raymond Magras, an accordion player, who named it Les Romantics. Its members were originally Arnaud Magras, Maurice Mayer, Max Gumbs, Edward Magras nicknamed Didi and his brother Jean-Claude.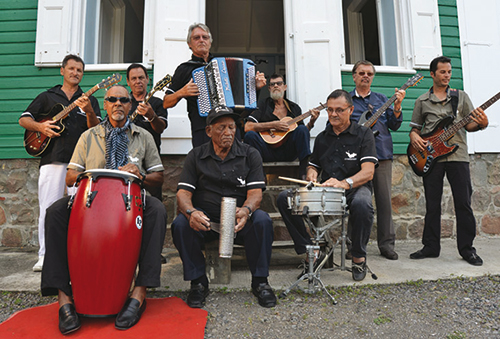 When the elders stopped playing, the band gradually welcomed new musicians. Today, they are a group of friends who love music and play with obvious pleasure: Frédéric Blanchard at the bass, Jean Claude Magras – different from the Jean Claude mentioned above – at the guitar, René Danet at the drums, Bruno Magras plays the guitar, Didi the percussion, Patrick Hodge the piano, Michel Magras the guitar as well and Yves Vaillot the accordion.
Bruno Magras grew up in a musical family atmosphere, nurtured by country music that was played by his uncle in St. Thomas. His father Constant Cyrille and his grandfather Jean Emmanuel introduced him to the accordion and he started the guitar at a very early age, this instrument being the Magras family's favorite.
Although left-handed, he learned how to play as a right-hander. He is a talented autodidact and learned alone just by listening, without scores and without a teacher – like many musicians at the time. Still, he made quick progress and never stopped.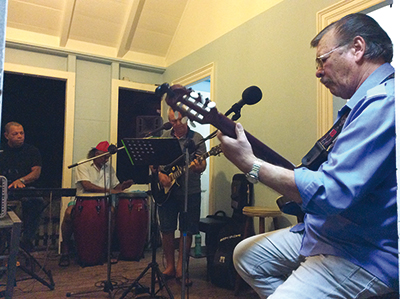 Returning to St. Barths, Bruno Magras was determined to develop his island. He is a man full of resources and surprises, frank and direct, who finds the time to pursue his passions: aviation in particular but also music that allows him to enjoy real moments of friendship. After being part of one of the first two bands, Les Etoiles (The Stars in French), of the island he started another band with his brothers and some friends, Les Red Wings, which played until 1976. Then, he joined Les Romantics. Their credo has always been traditional Caribbean music, but also beautiful waltzes and An Tan Lontan music (yesteryear music). They are still playing today to delight the local faithful, but also visitors seduced by their concerts, events or private parties.
"Music is our decompression valve; we relax with pals in friendship and fraternity."
A true and pure authentic happiness, for great moments of sharing, in all simplicity, with passionate people with multiple talents. The cream of St. Barths!