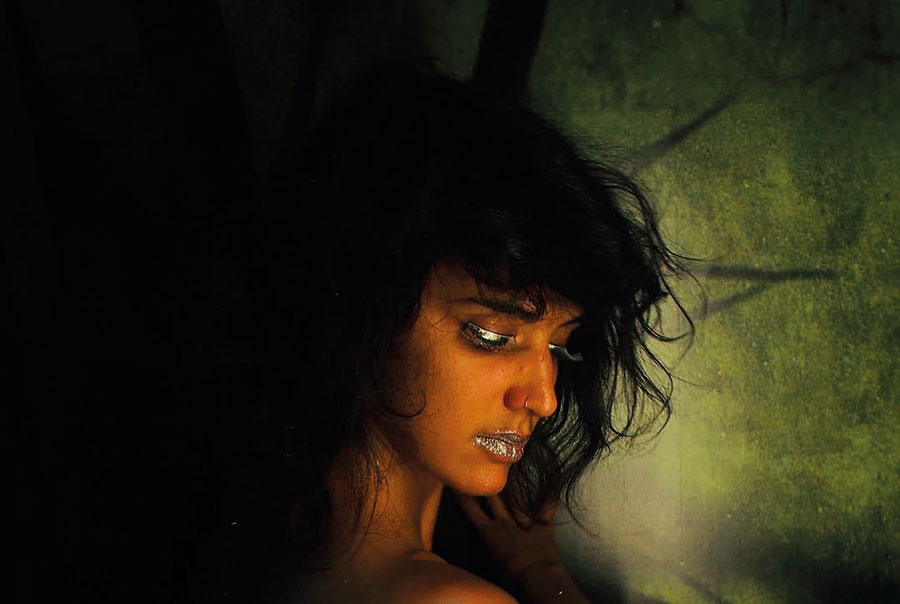 « I am Rock and Roll !" This is how Lorraine defines herself. She is a rebellious creator who does not respect norms, who cannot be put in a defined box, whether it is for her artistic practice or the medium she uses. A creator motivated by something other than business, guided by spirituality, nourishing her secret garden and shaping her life path. Meet Leau Reine.
A friend who had been living in St Barts for 25 years invited Lorraine, originally from Burgundy, France, to discover the island.
When she was 22, she came for a vacation, then returned, doing all kinds of jobs while practicing her creative talent. She stayed, caught up in the energy of the island, which she felt deeply. "St Barts is an island with powerful energy, where artists can evolve through their art. That's what I was told and I found myself." Lorraine began working with shells, then driftwood. Today, as a villa manager, she uses her talent to embellish her premises, whether to restore furniture, slipcover armchairs, sand a table or give chairs a new life.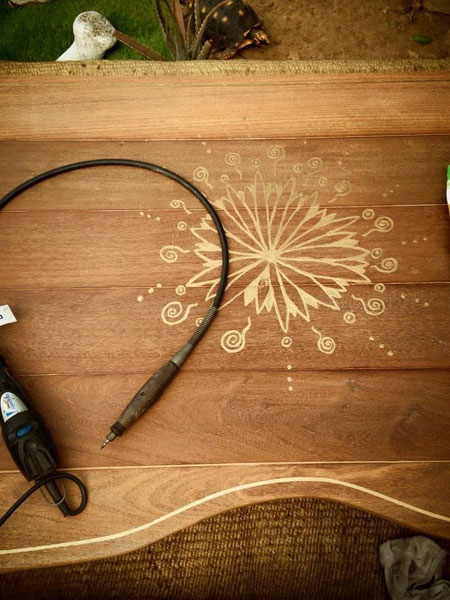 Lorraine is not an ordinary artist. She is self-taught, eclectic and does not follow a classical path, attached to one discipline. She is above all guided by her emotion and intuition. Lorraine creates from intense, deep emotion born from an encounter, a landscape, a painting, a color, a music, silence…
"My creativity is related to an emotion that I need to let out. It is always motivated by emotion generated by love, the beauty of a material, music, with powerful resonance in me. Today, I create for myself, to let an emotion out, not with the goal of creating an emotion for others."
Her intuition invites her to choose a technique – painting, writing or sewing – and a material such as paper, wood, leather, canvas … allowing her to express her creativity with no limit.
"I'm not locked into forms or materials. I'm not academic. Choosing a medium is instinctive based on what is available at home."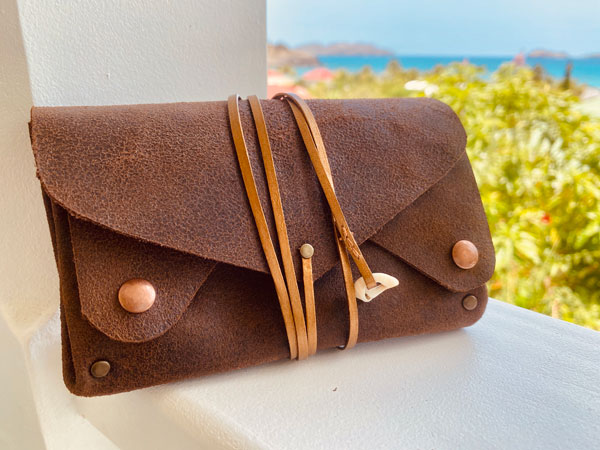 She works with wood and paints, designs jewelry that she asks craftspeople to make. For a few years she has been working with leather. Creating bags, pouches, pen holders and even renovating leather armchairs have become her new favorites.
"Leather is a noble material, with a smell that lives. It will change color, appearance. It evolves and changes under the spell of our energy. I pay tribute to the origin of the material, giving it a new life through the piece I create. We cannot change the world, but we can give life, and pay tribute to past life. This is true for animals as well as trees or plants."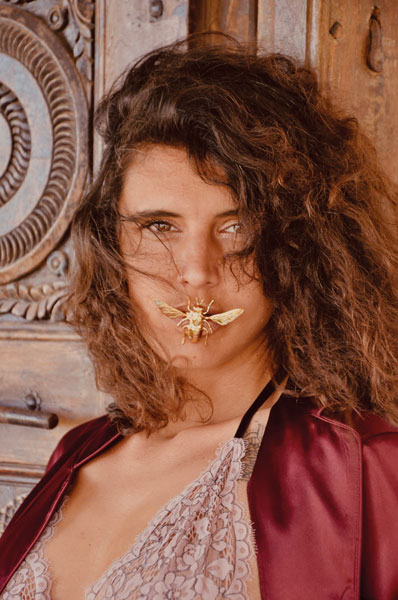 Very eclectic, admirably skilled with her 10 fingers, able to do wonders with little, Lorraine knows how to express her creative talent in astonishing, very accomplished creations.
"I've always been skilled with my hands, I've been making crafts since I was little. My family had little means, we had to do with it. Depending on my mood, I will be in a very meticulous and fussy creative process, – I created a bag that took me more than a week- or on the contrary, very spontaneous or immediate – doing a drawing or a poem. Creating comes along with the condition I am in, like healing. It's a kind of art therapy."
Although Lorraine first creates for herself, she can also use her creative skills for someone who inspires her. She cannot take a commission or reproduce a model, her productions are unique and her creation remains her secret garden that she cherishes and nourishes at her discretion.
"Art is my personal life. I don't want to be bound by rules, commissions. My goal is not business."
It's so personal that Lorraine is able to offer her entire back for the artistic expression of a tattoo artist. Nothing conventional in her tattoos, each of them is the fruit of an encounter, with old tattoo artists in search of confidence, or novices in search of practice or even seasoned in search of creations… Generous, she expresses true empathy for the other, with simplicity and authenticity.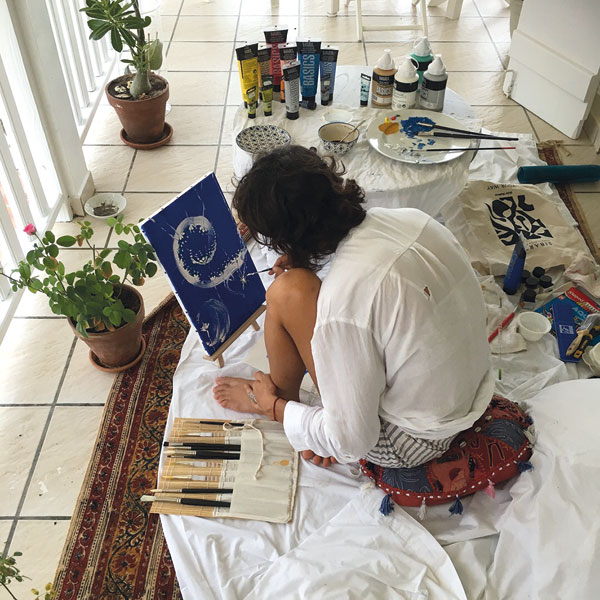 Her creation is guided by her intuition, which in turn is nourished by her spirituality. Lorraine is also a certified hata yoga teacher and trained in Reiki. She links body postures, energy flows which contribute to open her reception channel, she practices channeling.
"My art is connected to the spiritual, it is a form of meditation. Spirituality is a treasure enriched over the years, developing awareness of what you receive. My channeling is nourished by my creations, my travels, my experiences, my encounters with others."
Her creation can also be inspired by her readings, such as Marguerite Duras' Lover. "This book triggered the need to write. In silence, I write. And for this art, love is my greatest inspiration. I happened to write poems and even a collection. I like offering words. More intimately, love is such a changing beauty that I like to believe that the mind is touched by the sweetness of writings. And that in the end, those lucky ones will be able to say: "someone wrote a poem for me". Also, writing is an art that allows you to take some distance from daily life. I have always kept a diary, as if writing brought me answers. It is like deep introspective meditation."
But her writing has a limited life. "I usually never read again what I write, I throw it away. Once the emotion is expressed, I don't look back. It no longer makes sense to me."
A rich, unusual personality to discover.