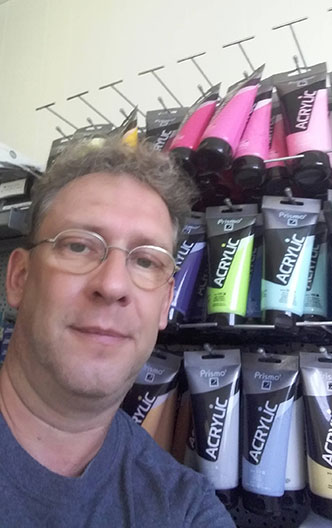 Vincent loves color and painting techniques. It´s no coincidence, because he was born in this environment: his father is a well-known designer and his sister a ceramicist. He studied in Paris at Maison Sennelier, a benchmark in the painting world. There he began building his "recipe book", meaning in-depth knowledge of most painting techniques and everything related: watercolor, oil, acrylic, encaustic painting … He specialized in ancient techniques, polychromy and gilding, an uncommon know-how in France as very few have this expertise.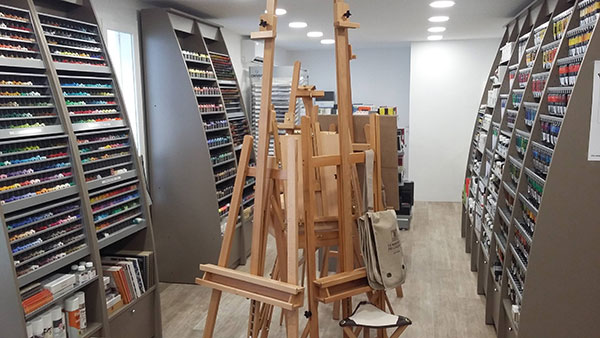 Vincent then came to SBH in 1996 to see his painter friend Ballagny. Like many, he fell in love with the island. He returned in 2001 and settled. He then set up his own business selling painting materials for artists he knew. Faced with growing demand, he opened a shop in Gustavia for everyone, amateurs and professionals: The Marchand de Couleurs shop was born and quickly became the reference in St Barths for whoever wanted to try out painting, specialize or develop their art. It was a real hit: painting helps many to let off steam, relax, and there are a lot of amateurs on the island. "Moreover, there are no limits in art techniques. All techniques can be combined, expression is boundless. I like the physical side of painting, of its supports. Knowing how to combine materials, colors and supports is a true pleasure ."
Generous and gregarious, Vincent enjoys passing on and sharing his knowledge with no limits. In his shop, he takes great pleasure in receiving paint lovers of all levels and giving advice. "I love artists. They are passionate. I discuss, pass on my technical knowledge to them, guide them in their choice. "
It was three and a half years ago … six months before Hurricane Irma completely destroyed his shop.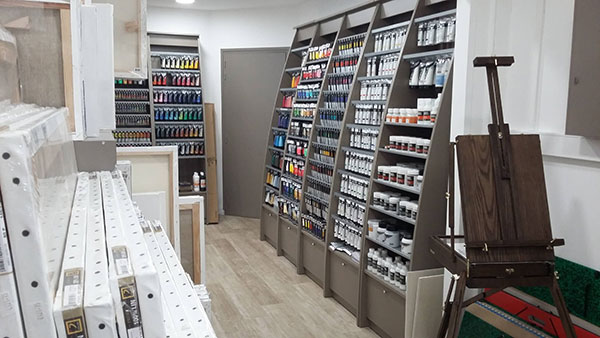 Vincent has since recovered from this painful ordeal. He has replenished his stock, and sells directly through his website and on order. "The goal is for the adventure to continue. Demand is still there, maybe even more, because painting is a wonderful stress reliever. Art therapy is a fabulous, proven outlet."
In those uncertain times, affected by the health crisis, no need to hesitate…. Get ready and paint!