Nouritza is not an artist that can be easily categorized. She was raised in the world of theater, and quite naturally she gravitated toward this discipline. Without really wanting it, she discovered singing and music that revealed her quite latent talent….
This tall and beautiful passionate brunette with brown eyes attracts you right away by the confidence she shows in life, her optimism, openness and natural benevolence. Nouritza's Armenian name means "little pomegranate", the emblematic fruit of Armenia that symbolizes life. Here is her story and some of her recipes for success.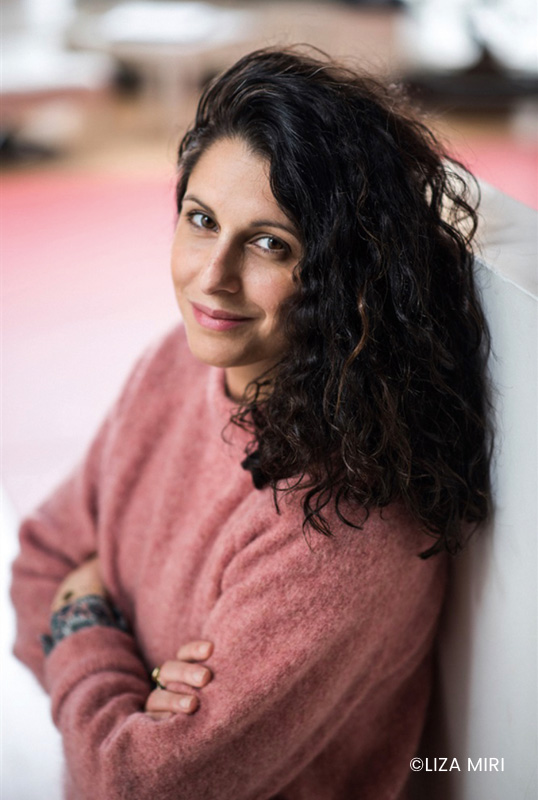 Nouritza grew up in a modest suburb in Ile de France. When she came to St Barths at the age of 11, the transition was brutal. It took her a few months to adapt to her new environment before creating her own universe.
Very early on, Nouritza was immersed in theater, as her mother Nadège was a teacher with a passion for theater and creator of the St Barth Theater Festival. Since she was a child, she has shown her interest in comedy and humor. In 2001, she went on stage to perform her first sketches during the Saint Barth Theater Festival.
After completing her distance-learning high school studies in St-Barths (she was one of the few to pass in these conditions, at the time!), she left to study theater in Paris, first at the international school Jacques Lecocq from 2003 to 2005, then at the Conservatoire of the 10th district of Paris. Nouritza then continued training in Paris through internships and training courses.
Very quickly, she got roles in plays and TV series. But her appetite for discovery pushed her towards films which fascinated her.
Her path then crossed theater, films and short films and she developed a rich, diversified career over the years.
As an actress, she played in Le pont du diable (France 3 channel), then recently in Les tribulations de Georges et Fernand, broadcast on France.TV, in Engrenages (Canal +), and 66.5, a series to be broadcast on Canal + next year.
Wishing to move behind the camera, she wrote and directed 5 short films, for which she obtained awards:
In 2018, JE SUIS MES 8 ANS for which she won Best Actress Award at the Nikon Film Festival, awarded among others by Pierre Niney (actor), Emmanuelle Bercot (actress-director), Marie Gillain (actress) and Hugo Gélin (director).
In 2020, LE MONDE EST A NOUS, for which she won the Promise Prize at Clap 89, awarded by Sophie Fillières (director) and Nicolas Marié (actor), among others. The short film was highlighted by the ENGIE group.
In 2021, LA QUICHE, for which she won the Very Short Film Award at the Capucines du Cinéma Français, awarded by Baptiste Lecaplain (actor) and Julia Piaton (actress).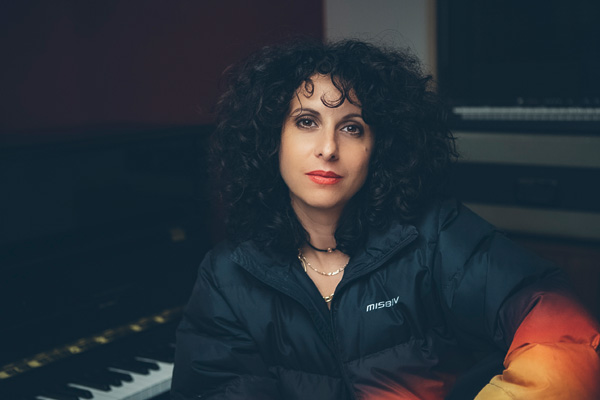 She also directed a video clip for the collective Les Funambules, created by Stéphane Corbin, which will be released in October.
"It's a difficult job; you need to be confident, always motivated despite a life with ups and downs, you have to fight, and also be present on social networks to develop a community of fans, and audience" explains Nouritza, as she expresses so well in her short film 'La Quiche'.
Her recipe "is a lot of work and perseverance … Being curious, positive, open to others… and continuing to develop self-confidence.
But Nouritza remains modest and humble: "My journey is the image of who I am, that is to say imperfect… There have been many failures but also successes, beautiful encounters and also bad ones, beautiful projects, failed ones too… My career evolves at the same time as I evolve personally. For me, the two are inseparable. In recent years, there have been fewer and fewer failures, which reassures me and gives me confidence!"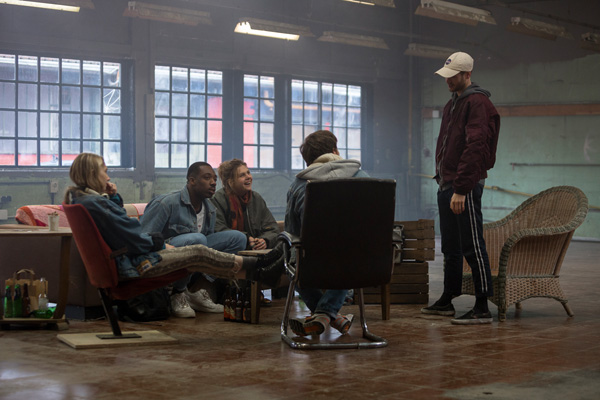 Her taste – or gift – for music caught up with her. At 20, in line with theater, she mainly made music and created an album between French song and folk with Damien Somville. She was spotted by Virgin and even Universal. But everything went too fast, in 2004 she refused this path that opened for her and rejected music for 15 years, without knowing that this underground passion would catch up with her ….. In June 2019, her childhood friend from St-Barths, Laura Jais, sent her some texts for advice and to know if they could be put into music. Nouritza liked it so much she agreed to open the door to music again. She followed her attraction towards the texts, not of French songs as in her beginnings, but rap… she enjoyed putting down words, finding the rhythm, and everything happened quickly: she found the composer, Raphaël Charpentier, then the artistic directors and composers, Julien Sabourin and Julien Ribeill. With Laura, she set up her production company Seine 13 Records, and created her music artist name – TZA.
Nouritza will release a first track, "Single 0" at the end of 2022, on all platforms, along with a video clip, then will release the other tracks about every two and a half months.
This real musical project reveals her passion and is at the crossroads of the disciplines that shaped her: theater and singing. She realizes that music brings together everything she knows and loves: acting, singing, directing. A kind of achievement. Nouritza knew how to listen to her inner voice and express her uniqueness. "It is necessary to be able to get rid of the shackles, the classical or traditional training, to express what one has deep inside. It's a never-ending journey."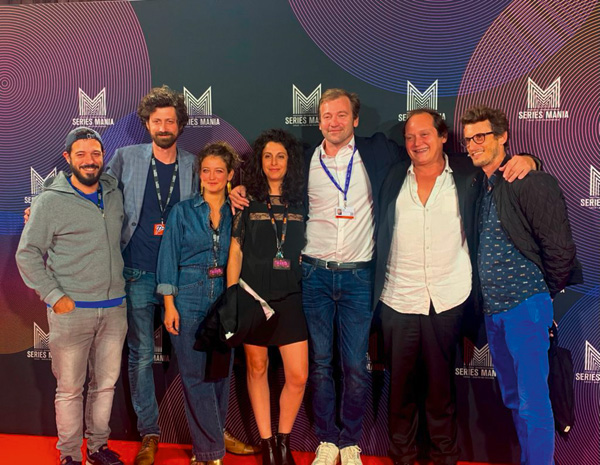 Her projects today keep multiplying: she played in a new short film "Poupée" directed by Tamara Vittoz, a graduate of the Femis, which will begin its journey in festivals. Next month she will be shooting in Tandem, a series on France 2.
In 2023, she will be programmed at the Saint Barth Theater Festival with her musical project.
Nouritza is happy to return to St Barths, the island of her heart, that she evokes with great emotion:
"I look at St-Barths the way I looked at it when I was young… I look at this island with a lot of emotion because this is the place of my best childhood memories. I was very lucky to grow up in St- Barths, to have this freedom, this carefree attitude.
I have this image of leaving school at 3:30 pm and running to Shell Beach with my friends. Going to Boubou's Festival and listening to artists I admired, such as Mc Solaar. Going to Ginette's with my friends, playing pool, dice 10,000, while having a glass of rum.
I also remember my teachers at the Mireille Choisy Middle School who wrote me a note at the end of my 9th year to encourage me to follow my passion.
There is also my first house in Vitet. I was 12 years old…. The view was incredible. The house was built at the highest point, and I could climb the hill to a small natural cave where I had a chair and some books… it was a space where I was already making up stories and playing characters.
My youth is directly linked to the island and to happy memories. I am often very nostalgic for that time. And I know that my friends from that time are too.
Whenever I can, I am pleased to return to this island that I love so deeply."
See you at the 2023 St. Barths Theatre Festival, with Nouritza on stage.
An actress and artist to be followed with interest.
Un parcours riche et multiple
CINEMA
2018 QU'EST CE QU'ON A ENCORE FAIT AU BON DIEU? – Philippe DE CHAUVERON – L'infirmière
TÉLÉVISION
2022 66.5 (série Canal+) – Keren BEN RAFAEL
2021 SCENES DE MENAGES
2021 LES TRIBULATIONS DE GEORGES ET FERNAND – Olivier RICHE et David MERLIN DUFEY – Françoise
2018 LE PONT DU DIABLE – Sylvie AYME – Léa Roussin
2018 ENGRENAGES – Saison 7 – Frédéric JARDIN – Amina Chemla
2015 FAIS PAS CI FAIS PAS CA – Philippe LEFEBVRE – L'infirmière
2015 UNE HISTOIRE UNE URGENCE – David FERRIER – Lola Ruimi
2014 PEPLUM – Philippe LEFEBVRE – Esclave romaine
2013 SALAAM CAMPING – Lionel SMILA – Latika
2012 CLEM – Joyce BUNUEL – Sage femme
2011 MICA & BENJ – Benjamin LEHRER – Hôtesse d'Accueil
COURT MÉTRAGE
2022 POUPEES – Tamara VITTOZ
2019 JE SUIS CAUCASIEN – Olivier RICHE
2018 STEAK FRITES – Olivier RICHE
2018 JE SUIS MES 8 ANS – Nouritza EMMANUELIAN prix d'interprétation féminine
2017 AD LIB – Joseph CATTE – Nina
2016 MES LYCEENNES – Maxime CAPPELLO – Laetitia
2015 JE SUIS UNE FLECHE – Vincent DELOUZILLIERE – Sarah
2015 STREAM OF DOUBTS – Joseph CATTE – Marie
2013 LES DOUX ABATTEMENTS DU COEUR – Vincent FERNANDEL – Phèdre
2006 VOIE D'EAU – Matthieu-David COURNOT – Sarah
PUBLICITÉ
2021 LECLERC – Julie NAVARRO
2021 VINTED – Maxime BAUDIN
2020 VELIGO – Cyril TELLENNE
2020 PUB MINISTERE DE LA JUSTICE – Ed Mc MULLOCH
2014 SOJASUN – Charles MARTIGNY
2013 SOCIETE GENERALE/ ASSURANCES – Xavier GIANNOLI
2008 DELICHOC – Varante SOUDJIAN
THÉÂTRE
2018/19 GOODNIGHT (Romain Poli) – Guillaume Melanie – Funambule
2015/2016 HUIT MONOLOGUES DE FEMMES (Barzou Abdourazzoqov) – Vincent Delouzillière – Multiples rôles – France
2014/2015 PAPIERS D'ARMENIE OU SANS RETOUR POSSIBLE (Caroline Safarian) – Sevane Sybesma – Choeur – Hélène Bergonian – France, Finaliste Prix Théâtre 13
2013/2015 DANS LES DRAPS DE MORPHEE (Cédric Chapuis & Céline Picart) – Cédric Chapuis – Multiples rôles – France, Festival d'Avignon 2013
2012/2013 BLEU & ROUGE (Samuel Ganes) – Samuel Ganes – Hansel & Le Petit Chaperon Rouge – France
2011 MOLIERE DANS TOUS SES ETATS – Jean-Luc Prevost
2010 COURS TOUJOURS (Nouritza Emmanuelian) – Nouritza Emmanuelian
RÉALISATION
2021 LA QUICHE (Finaliste du Nikon Film Festival)
2020 LE MONDE EST A NOUS (Finaliste du Nikon Film Festival)
2019 JE SUIS UNE CONFIDENCE (Finaliste du Nikon Film festival)
2018 JE SUIS MES 8 ANS (Lauréat Nikon Film Festival)
2017 JE SUIS UNE PETITE ATTENTION (Finaliste du Nikon Film Festival)
WEBSÉRIE
2020 CAMERA CACHEE – Simone Media (Harcelement de rue)
2013 PAUSE CLOPE – Eric Kailey & Yan Kalis
DOUBLAGE : 2013 MADEMOISELLE KIKI ET LES MONTPARNOS – Amélie Harrault