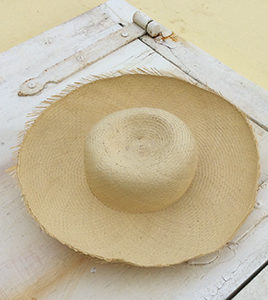 The two Bernier sisters, Gertrude and Annoncia, are the last descendants of a large family to practice the tradition of weaving straw hats in Saint Barths. Passed along by their mother and their grandmother, this activity requiring details, dexterity and patience was part of their childhood, braid mats being a bartering chip to make daily life easier at the time. Today, they are proud – and rightly so – to perpetuate this tradition as this activity gives rhythm to their weekdays and is surely their secret to remaining vigorous, alert, smiling and confident in life.
In their traditional huts painted yellow in Grand Fond, facing the ocean, on their large piece of land with goats, chickens, flowers and trees, Gertrude and Annoncia, humble, simple and full of authenticity, live to the rhythm of nature and witness the traditions of St Barths.
Although their dexterity cannot be explained but simply witnessed, they try with their words to talk about their ancestral know-how, while their fingers shaped by contact with the leaves, and marked by the positions of braiding come and go alone, with speed and skill: First, they pick the leaves of the Latanier tree, dry them in the sun for nearly a week, while being careful not to leave them in the bright sun. Then they need to strip them, make bundles of dry strips and work can begin.
Because braiding can only be done in the early morning, before the heat of the day, two to three hours a day maximum, a hat takes more than a month to be made. It takes a lot of patience and self-sacrifice to make a piece: hat, doily, mats, coasters.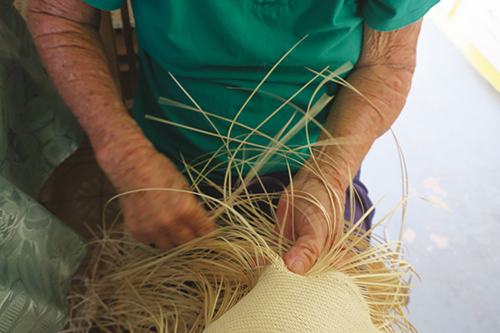 Unfortunately this is too much work and too much time and the younger generation is turning away from this activity which is likely to end one day.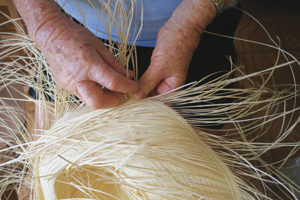 Gertrude and Annoncia's creations are for sale in Lorient, at the shop L'Orientale, managed by one of their nieces.
For a modest price considering the time spent and the know-how, you will get evidence of this unique St Barths tradition which you will then be able to cherish and retain.
You can get one right now, to pay tribute, contribute to the long term of this tradition, and thank Gertrude and Annoncia.