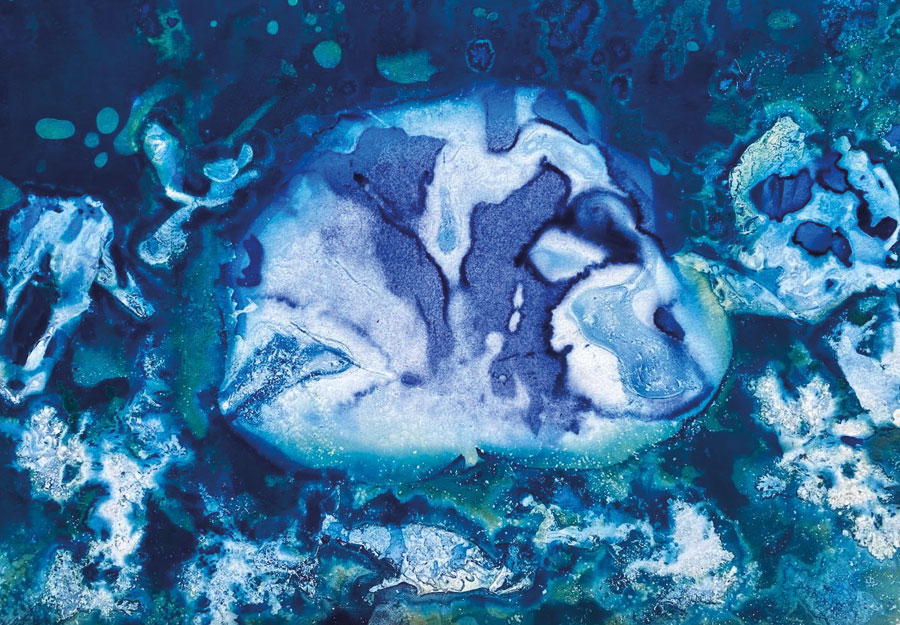 Paintings that look like photographs, photographs that look like paintings …" Contrasting yet complimentary, these surreal seascapes are the tangible creations of an artistic duo working together in symbiosis by the ocean shore. I had the pleasure of meeting this creative couple who told me more about their unique relationship with the natural environment of St Barts.
Where did your life begin?
Ben Reynolds (BR)
I was brought up by British-Dutch parents in the UK. I was always very creative as a child, painting from a young age, as well as making things. I enjoyed working with my hands; it was my way of communicating with the world. And my Steiner education further encouraged me to find my path through creativity.
Camillia Langoux (CL)
I'm of French origin, and had the great opportunity to spend my childhood on St Barts, where my family have had a house since the early 90s. I have always felt very connected to the island, despite moving to Europe at the age of six.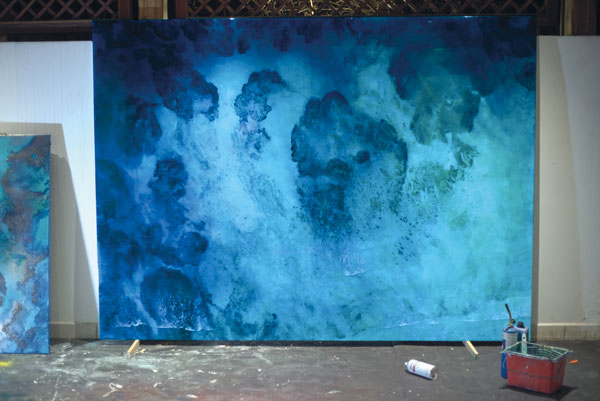 When did you enter the 'Art World'?

BR: Destiny led us to Art School in Barcelona in 2004, where we met doing the same foundation course … And together our paths led to the University of the Arts in London, where I specialised in painting at the Camberwell campus, and Camillia studied photography at the LCC campus – each being awarded a Bachelors in Fine Art.
CL: Since graduating, our artwork has been exhibited in London, Barcelona, Paris, Arles, Cambodia and here on St Barts at 'To B. Art'.
Tell us more about your 'Creative Collaboration'
BR: Our work has brought us together on many occasions, including music videos, theatre design, and design for film production, notably 'Adnan' about a young Syrian refugee.
CL: We have also jointly assisted projects related to children and education; and we formed a charity for the purpose of designing and fitting out three buildings in London's East End, to be used as educational spaces. Other projects together include the production of music and art festivals in the UK countryside; in addition to making giant puppets in Cambodia, for a big parade celebrating the Chinese New Year.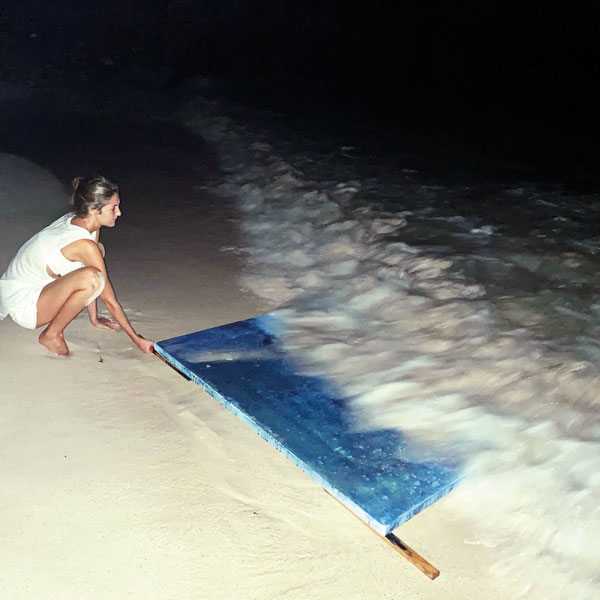 What inspired your 'Seascape Sabbatical in St Barts'?
BR: This 'sojourn' in St Barts was rather by default on account of Covid. In fact, ever since graduating, our lives have been pretty much London-based, interspersed with our assignments abroad. We were visiting the island for a couple of weeks in early 2020 … but then the whole world shut down and our projects in London were put on ice, indefinitely. Furthermore, Camillia was pregnant with our daughter; so we decided to use this time as an opportunity to return to our initial specialities: painting and photography.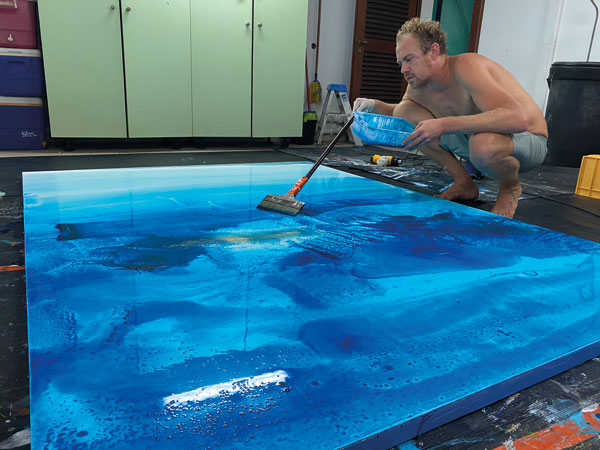 We felt privileged to be on this island during the confinement, particularly with the sea on our doorstep, which became the centre of our universe.
We began to slow down and adopt new routines that became rather ritualistic – cooking, swimming, spending family time with our four-year old son …
CL: This brought about mindfulness, the process of actively noticing new things, which pulls you back into the present moment.
The day-to-day anxiety of daily life can be a barrier to creativity. We questioned whether it is healthy for humans to be 'available' all the time, via social media and the constant drip feed of news cycles. We decided to completely disconnect, to experience the tranquillity of being close to nature … becoming mindful and present.
Marine Biologist, Dr Wallace J. Nichols, talks about this in his book, 'Blue Mind', when he describes the neurological, psychological and emotional changes that our brain experiences when we are close to water.
This interconnection with the environment is very important to us and our practice; and we are particularly aware of the impact we have on this Earth. We have always strived – often beyond practical means – to reclaim and reuse existing materials in our work.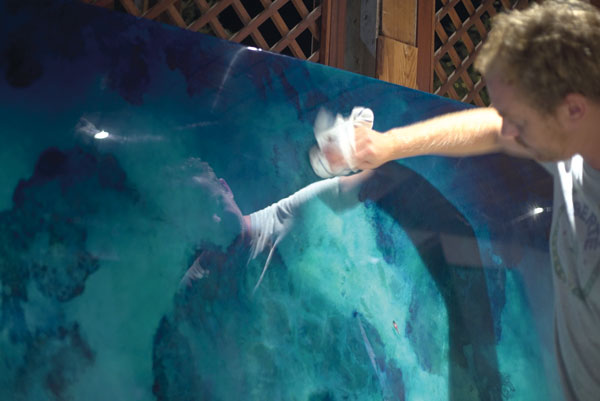 The Making of Art' or 'The Art of Making' – how do your creations evolve?
BR: I would say that my artwork is produced through a 'meditative process' that involves 'control' and 'letting go'; while equally embracing unforeseen 'accidents' that lead to another set of challenges with more possible outcomes. It is the optimism of resolution that drives the work forward.
These works are in fact more like sculptural objects made with a paint brush rather than painted in the traditional sense. I try to disguise any sign of a brush stroke, building layer upon transparent layer, disguising them so they appear to float organically in a state of flux.
They are sculptural in the sense that their size, sheen and luminosity makes them practically impossible to photograph – perhaps an inconvenience, but I quite like that. They are not images as such, they need to be seen physically, and certainly not viewed on a phone screen.
CL: My artwork is also sculptural, albeit photography; an idiosyncratic approach relative to the traditional idea of what a photograph or, more specifically, what a photographic image is.
These works could be categorised as landscape art, while challenging this genre and the medium by reappropriating materials such as mud, sand, silt and tar … letting go and playing with elements that are like frost, snow and fire.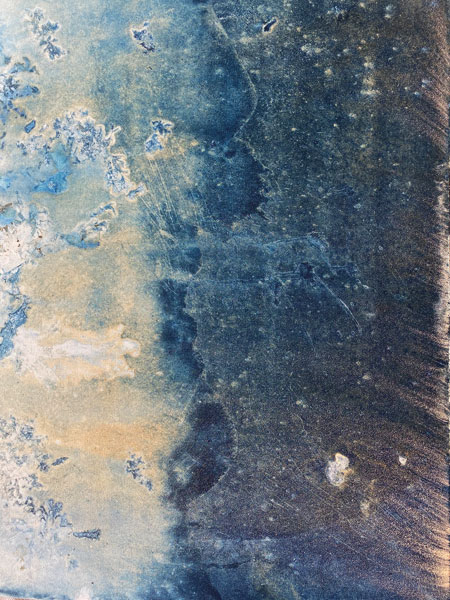 In the age of mass-produced snapshots and digital imagery, I really wanted to go back to basics – my lack of materials was in fact a blessing. I wanted to create unique, crafted, tangible photographs. I was fascinated by camera-less photography, more specifically cyanotypes, as they allow an abstract thought to become a communicable concrete reality … something that has never really existed, but appears as fragments, memories or dreams. This enabled me to reconnect with what initially inspired my love of photography.
The images are created by the casting of shadows on a light-sensitive surface – either canvas, paper or wood brushed with photographic emulsion. The specific elements used in this process leave physical impressions through direct contact with the photographic materials.
Submerging the work into the immediate environment, in this case the ocean, subjecting it to the rhythmic movement of the waves, allowing it to evolve by chance, while embracing the natural textures … is essentially like trying to harness the ephemeral.
These pieces appear to be paintings at first glance, but under closer inspection the intricate traces of sand, sargasso, sediment are revealed. A fraction of a moment captured as an image.
Seascape Show' – when will all be revealed?
BR: Our exhibition started on the 1st of July, featuring a selection of this artwork.
It is held at Valentine De Badereau's Fergus McCaffrey Gallery in Grand Fond …
And we hope to see everyone there!