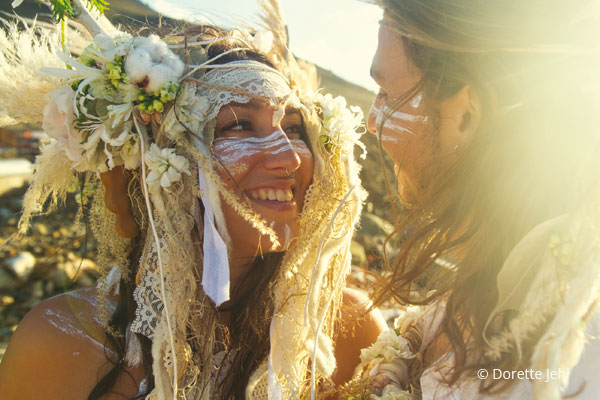 Valentine, 25, has creation at her fingertips and flowers in her skin.
For the past two years in Saint-Barths, supported by her older brother who has been working on the island for 10 years, she has been devoting herself to her creative passions: flowers and costumes.
Originally from Alsace, Valentine blossomed in the florist profession, a learning process that led her to increase her professional challenges in different establishments, stores and competitions. She reached two national finals, such as the WORLDSKILLS and the Oasis Rainbow Cup, as well as the first prize at the Oscar of Craftsmanship in France.
She finished her studies in Paris and flew to Saint-Barths to work for a couple seasons.
After ten years of experience and through her love for plants and her taste for costumes, Valentine launches her own activity to express the richness of her imagination. She then created something improbable: making ephemeral costumes. Along with her partner Dorette Jehl, florist and photographer, they dressed up friends to immortalize Valentine's first creations. The prints made translated her trademark, her universe.
This is how UTOPIXY was born, 6 months ago.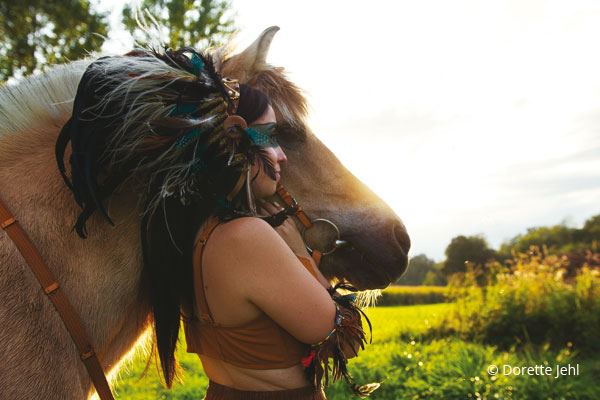 The door of the imagination making escaping, dreaming and travelling possible. This is what Valentine has to offer, in her universe made out of flowers, colors and materials. She has been noticed for the originality of her bouquets, the decorations made in villas, weddings and other events. Like in December, for the fortieth anniversary of the Bar de l'Oubli, or during a special order from BBR Travel at Shellona, Gypsea and Eden Rock.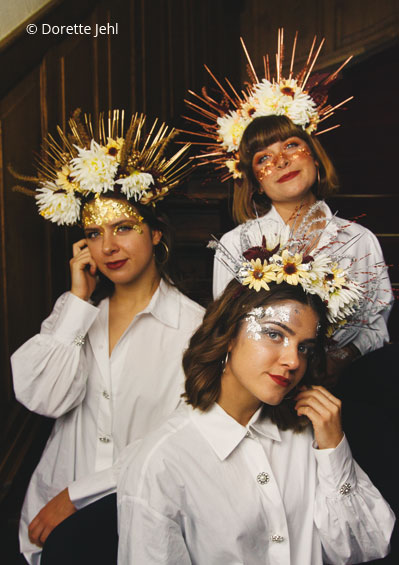 Each new request is a new creative challenge. The number of orders has been increasing: for carnival, for artists' costumes for PTYA Events and Stella*, for flower crowns for Lili Belle and other tiaras and crowns for Rock Mama.
Valentine invents, creates, innovates and draws her inspiration from everything that surrounds her: nature, artists, fashion, movies…
During the last carnival, she participated in creating the "WONDERLAND", Nikki Beach float with her brother Julien FLECHER. What a team! It is going to happen happen again this year, and be even crazier, but this time, Valentine will take care of part of the costumes, accessories and make-up. We hope you will remember it!
When Valentine tells her story ….
"My parents called me Valentine, my friends call me Tinou and in my work people call me Tiny Florist. A tiny florist in this big world.
But I am not just a florist… Many say I am an artist : -) I am overall a craftsman and a passionate person. To look less "Tiny" I renamed TinyFlorist and called it UTOPIXY: Utopia + Pixel; to translate my universe through photography.
Utopia designates and reflects my costumes made and beautified with flowers because they are ephemeral and yet, immortalized through photography. A harmonization of my two passions with purposes out of the ordinary. What I make with my hands is only the concrete realization of what happens in my head. Creativity is something that can be worked on, and I have been working on it since I was very young. I inherited this quality from my mother; I remember our costumes and other projects, encouraged by my father. Thanks to them for this education.
Sometimes, people mention surrealism… But I do not wish to put specific words on what I create. I imagine and think to the point that I become obsessed with it and then finally, I concretize to renew my ideas. It's a real challenge. What I like is innovating according to my goals and needs or my clients. Everything is possible!
In the presence of my universe, having my heads in the clouds is a good thing, but I also know how to keep it on my shoulders despite my fantasies.
My specificity is customized work: my creations can be adapted to all types, colors, types, sizes, shapes, textures, materials and flowers of course. The excitement of reaching my goals is my driving force, which pushes me to go further, surpass myself, question myself and above all, always do my best. It is also what I try to make people see and feel: an emotion, glitter in the eyes, inspiration, amazement. To surprise and then hear: "but how did you do it?" Or "where did you get this idea?" and make everyone quite curious. These are my greatest victories.
In my bubble, I invite the eyes that want to, to discover the fabulous combinations and metamorphoses of materials, colors, and plants that is (im)possible to make. An authentic mix of fashion and flowers, as timeless as ephemeral.
So, are you curious to discover my UTOPIXY world?