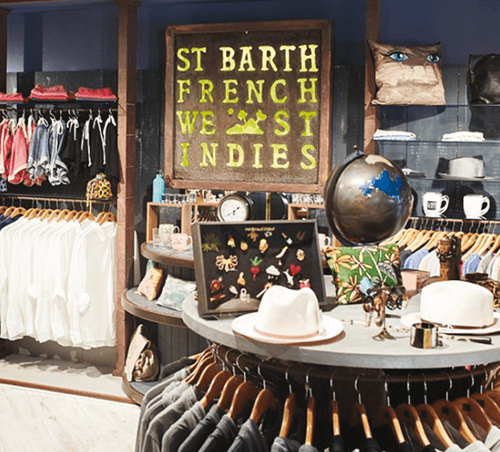 Patricia, known as Pati, is as surprising as she is talented. Surprisingly simple, without calculation, letting herself be carried away by life. Talented because she achieves beautiful things and creates alchemy through encounters and circumstances with success without looking for it.
Pati never seems to have planned anything. She is a bohemian in spirit and life, living from day to day, with a difficult start. However, with her artistic talent came great success – which was almost a surprise to her – as her talent was immediately understood by those who crossed her path and helped her move forward. She is undoubtedly guided or protected by her lucky star. Let's take a look back at this improbable success story.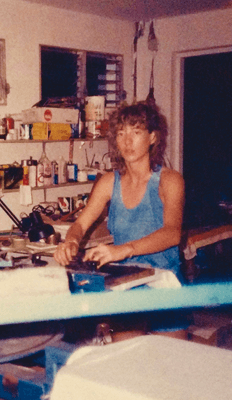 Nothing predicted her present success. From the age of 21, she went on a world tour, backpacking, for 3 years, living off odd jobs.
She grew up in Paris, but half from French Britany with roots in the West Indies, she returned to Guadeloupe where she spent a year, supporting herself painting watercolors she would sell to a gallery.
In August 1983, she came to visit St. Barths, almost by chance, to take a break. She set up her camping tent in Grand Fond, before being chased away by the police, since camping is prohibited in St. Barths.
Thanks to her watercolors, once again, she could pay for her hotel room, day by day. She was immediately won over by the island she found beautiful: "Everything was open, it was great. Everyone knew each other, helped each other. The people on the boats, the backpackers made the island. Life was simple, beautiful, friendly."
Very quickly her paintings began to sell. "I realized then that I could live doing what I loved doing: painting."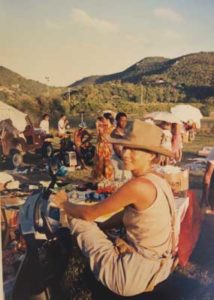 She lived on a boat for a few months and then changed houses several times.
In order to expand, Pati started to paint on T-shirts. "It was a success right away." She was soon able to buy a screen printing machine, to produce more. "I put all my savings into it, but it gave me a lot of suffering, as it was a real puzzle."
Pati then decided to create a logo so she could add a personalized signature to her T-shirts. After several tests, in 1989 she created the current St. Barth French West Indies logo. "I wanted something simple, easy to remember and a readable graphic, which represented St. Barths simply and could fit in a square like an island on the ocean." She registered the logo and the brand.
She printed day and night in a small garage, on T-shirts bought from Mr. Magras, then from St. Martin.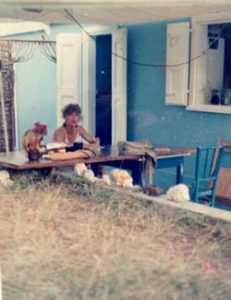 "We went through a lot, especially when the boat from St. Martin sank with the goods!" she says, remembering this eventful period.
Then came the black T-shirt series. "I bought the dye and rented tinting machines from Ginette in Anse des Cayes. Since I didn't have enough dye, my T-shirts went from dark gray to light gray. And despite all expectations, this involuntary change was very popular. This made them unique pieces. "
Since then, her collection has been evolving. Her places for work and sales as well. She went from a small garage in Colombier to three shops (Gustavia, St Jean and the Airport.) Today her clothes are made in Portugal from cotton, linen, terry cloth, in Peru where the cotton quality is chosen from among the best, cotton veil in India and Turkey, sarongs in Indonesia and Peru with Pima cotton, which grows ecologically in the Andes Mountains. Harvested by hand, it is fine, solid, soft and hypoallergenic. "Our choice of suppliers is based on the quality of the materials and the know-how. We like to develop a trusting and faithful relationship with our partners, and we also know that the working conditions are correct"
Her husband joined the adventure in 1998, dealing with management and development, and efficiently helps her in making their success story grow.
Pati participated in pop-up stores, especially in New York without ever wanting to open other points of sale, reserving the exclusivity to St. Barths.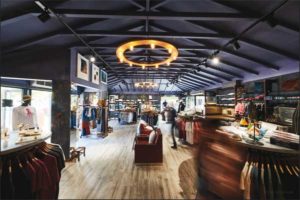 "I worked a lot. When the logo became famous, I would print all the time, day and night. Customers would come to the garage to get their T-shirts. I remember that dealers arrived in the evening, waiting for me to produce and would leave with their stock of shirts."
"Today, I keep doing watercolors and acrylic paintings on canvas, taking photos and inventing my patterns. Despite the many changes, this island inspires me more than ever, it has a unique atmosphere and aura and I want to express myself there by devoting more and more to my painting."
"My motto is not to have a motto, because things change all the time."
Confidence in life, great success. Well done, Pati!