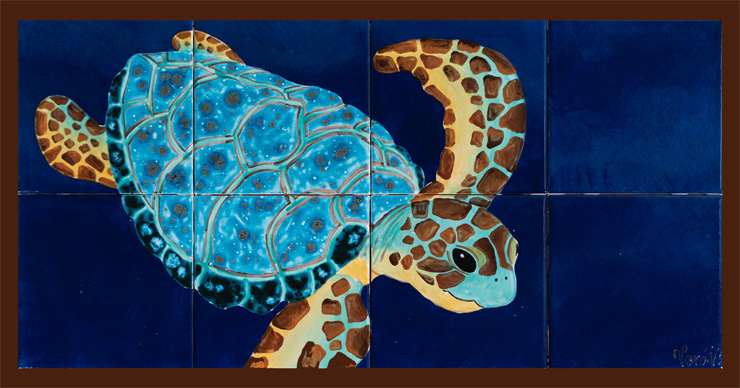 No need to present "Les Petits Carreaux", the emblematic brand that everyone knows in St Barths. It is Veronique's story that attracted me, as an inspiring example of tenacity and perseverance, bearing hope and confidence in life, teaching us to pursue the path of our soul.
Véronique is a self-taught artist, who simply seized opportunities or life chances, holding fiercely the thread of her life that makes her feel alive: art & creation.
Her passion is creating and expressing herself through gesture, drawing and color. This is her true credo. Her big grey-blue eyes plunge you into her universe and you can feel that while she physically faces you, she feeds on her thoughts and wanders in her world.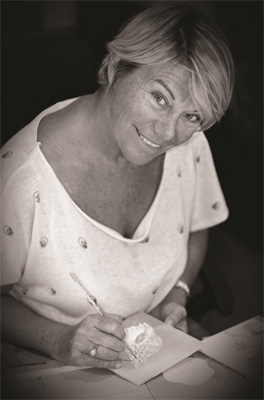 Since she was very young, she has loved drawing and wanted to study Fine Arts. But she followed her family's injunctions that diverted her from her passion for a few years (… 20 years anyway) before she found her true path in St Barths.
She was born in Renaix and studied advertising design as well as dance in Brussels while practicing windsurfing in Knokke le Zoute on weekends. At the age of 21, she decided to join Club Med (where she regularly spent her vacations with her parents) as a windsurfing coach. That is how she discovered the West Indies and met her husband, before they returned to live together in Belgium.
She then opened a children's store, and later a wine company in Knokke le Zoute. An anecdote, a twist of fate: in Lille she met a lady who had a ceramic painting workshop and she had a painting made representing the Castle of Yquem, as a present to her husband. Was it a premonition of the activity she would develop 20 years later in St Barths?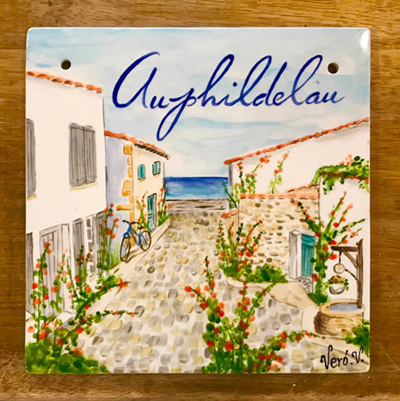 Thirsty for sun, sea and tropical temperatures, the family decided to go back to the West Indies, to St. Barths, where there was an opportunity to take over a wine company.
Véronique moved to St Barths 26 years ago, just after Hurricane Louis in 1994.
While she took care of her children, she attended painting classes, looking for creative inspiration. After staying in Canada, she was became interested in ceramic painting and decided to attend a course in Miami, before engaging in this activity.
A concrete activity, which allowed her to draw, paint, and in which she invested herself completely.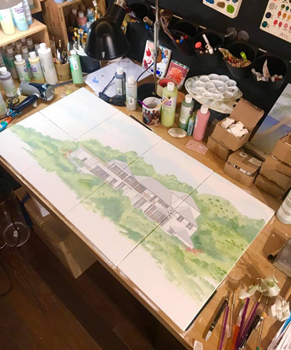 She then opened the Blue Gecko Studio, a workshop dedicated to painting on ceramics for children and adults, a concept she imported from Canada to St. Barths in 2001.
Little by little, her activity developed. In 2007, she proposed to the local authorities to paint tiles at the entrance to each beach, as a kind of signpost. This bright idea was adopted and it was the beginning of a great success! The Collectivity ordered 16 paintings to place all around the island, between 2007 and 2008. This was a new beginning, which opened new opportunities for development not only in St. Barths but also in other islands and continents.
She no longer could carry out both activities simultaneously and sold Blue Gecko in 2015 to focus on developing her ceramic creation activity.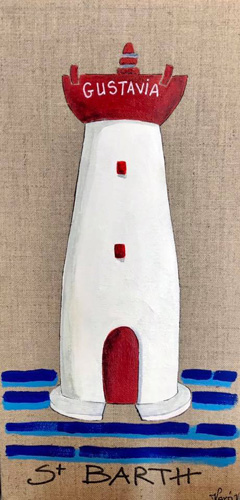 She wanted to make objects that would be sold, so she started to diversify on all kinds of supports, mugs, textiles, bags, and repurchased sublimation material. She moved to her own premises, first in La Pointe for 2 years, then in Passage de la Crémaillère in Gustavia in 2016, where she could have her workshop, store and gallery altogether. A place to which she gives a soul and where it feels good to pop in. In the midst of the health crisis, she embraced the challenge of opening a store at the airport to give more visibility to her souvenirs.
Never tiring, she keeps growing and makes paintings on request for individuals.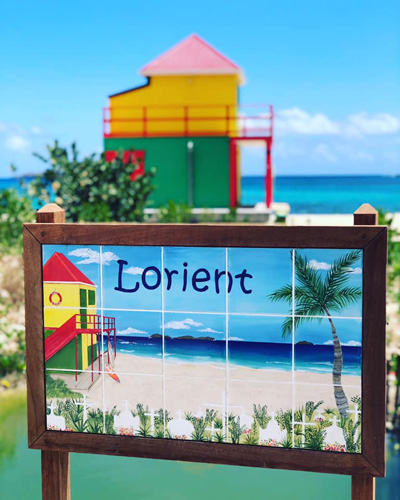 Over the years, the brand "Les Petits Carreaux" has become emblematic of the island, a unique, original signature. It is the small souvenir gift from St. Barths accessible to all, but also the signature that you want for your villa.
In perpetual search for creation and new ideas, Véronique created the travel book, a large coloring book, she made a drawing of the Moke, a car that she loves, and of the plane, the symbol of St. Barths, that she represents on many supports. She also creates collections of hand-painted tableware reproducing these symbols.
She would like to work new paintings and devote herself totally to her first love: drawing and watercolor. There is no shortage of creative ideas, it's more about time.
Her projects, secretly kept, promise new surprises for us in the coming months. To be continued …