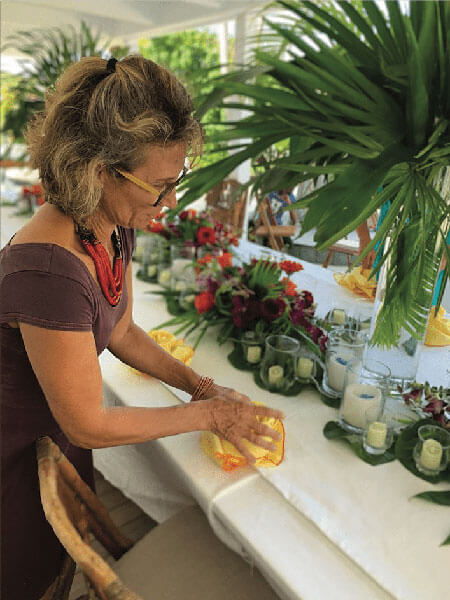 Claire was born in a cradle of flowers: Her grandfather, a rose gardener, passed along his passion to her. Although her mother did not do this kind of work and her father did not want her to follow this path, the allure of the flower was stronger: a call to express her deep sensitivity, which you feel right away when you meet Claire. She began training for this profession at the age of 16. Since she was more interested in plants than school, she started out as an apprentice with her uncles who ran a flower shop and with her grandfather at the nursery.
She quickly knew what she enjoyed most: nature, liberating her intuitions and creating. "I know how to give volume, associate colors, materials. I sculpt with plants. Inspiration leads me to shapes, imposes a style. According to my customers and their personality, my inspiration becomes my guide."
Claire is sensitive, delicate, full of poetry. With her large blue-grey eyes, she takes you away and into her world, listens to your personality, led by all her awakened senses so she can capture what suits you best. What makes her truly happy are custom-made arrangements, getting a grasp of what customers would love and adapting her creations to them.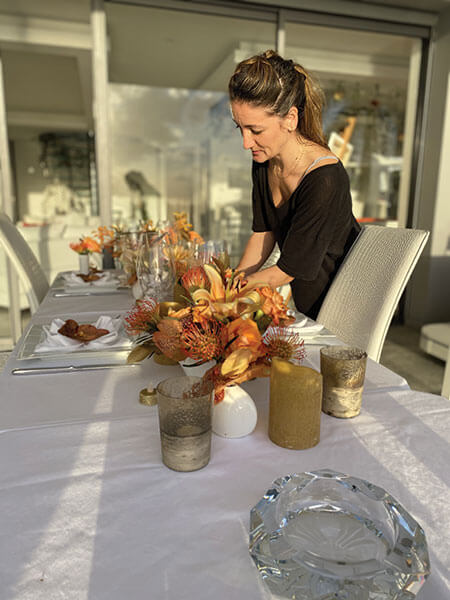 But there are many assets needed to succeed in this job.
« Being a florist requires team-building skills. We are a team of 5 collaborators and each has a very important role. You have to be creative as well as resourceful, especially in St. Barths where we depend on arrivals and transportation of flowers and perishable merchandise. At Christmas time, in the midst of the holiday season, transporting flowers is not a priority in airfreight, and we must constantly adapt, be inventive with the flowers available. »
In 2012, after running several shops in metropolitan France and raising her 4 children, Claire was still full of energy and love to share, so she left Lyon, France, and came to St Barths to open her first shop on the island. A close friend of the family, Maureen, who had been living in St Barths for a year, helped Claire and her son open the shop. The shop was named Bloomy: the blossoming of a delicate little flower that still needed to grow. And very soon, throughout beautiful encounters they started to get known locally.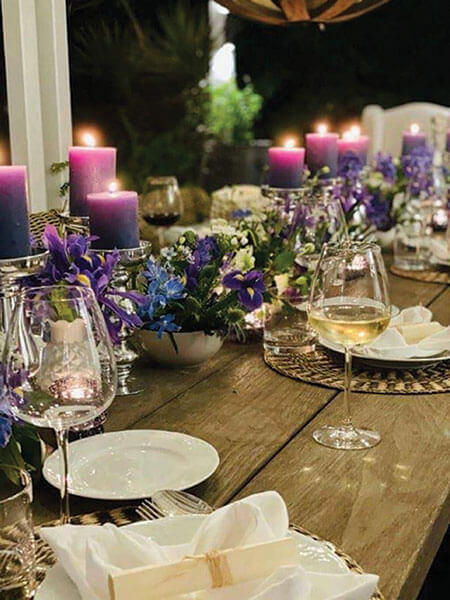 Since then, the two passionate women have continued working together. Although Maureen has a background in labor law and has worked in human resources for almost 10 years on the island, she has, in parallel, devoted many of her evenings and weekends to the shop. Maureen's qualities perfectly complement Claire's talents. She is determined, rigorous and hard-working: a woman dealing with files while sharing the pleasure of meeting clients and a special taste for flowers.
As flowers often accompany events, it was only natural that Claire, while still making Bloomy grow, joined forces with Maureen to create B.floral Events & Design, a floral design company specifically dedicated to events and designed to meet the varied needs in this field, from "tiny events", small tailor-made events, to the largest and most imposing ones. In 2016, Claire opened the second shop in St-Jean, more centrally located, to meet the needs of local clientele. In 2020, Claire and Maureen found a more spacious location to store equipment and accessories for rental and to meet a growing demand for events. Maureen then focused more particularly on B.floral to develop the activity.
As with Claire's family, which now includes 5 grandchildren, the B.floral family is growing.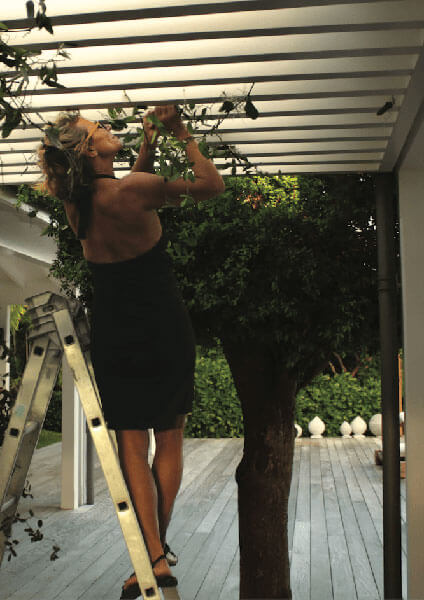 The unstoppable charming duo used the team's other precious skills so B.floral and Bloomy could magnify their clients' requests with personalized, unique and remarkable services.
Their good reputation quickly expanded amongst local customers, as well as visitors, villa managers and hotels. "Our credo is to serve all kinds of clients in St. Barths, including our local clientele and regular visitors. We accompany every moment of life from birth to death. And we are present throughout the year, making the link with the seasons or calendar celebrations, not just French but also Portuguese and American.
Their project is to develop an eco-responsible activity, such as lataniers fir trees, and work with local flowers and plants: "We also work with flowers from the Caribbean, with a Guadeloupe horticulturist, eco-responsible from A to Z; and more generally focus on local flowers and plants."
However, human relationships remain central to their motivation, and may also be what characterizes them. Claire says: "I love my customers, I like to make people happy and see their smiles fill with wonder when they discover a bouquet or a floral arrangement."
Flowers from the heart, for the greatest happiness. Discover and rediscover!