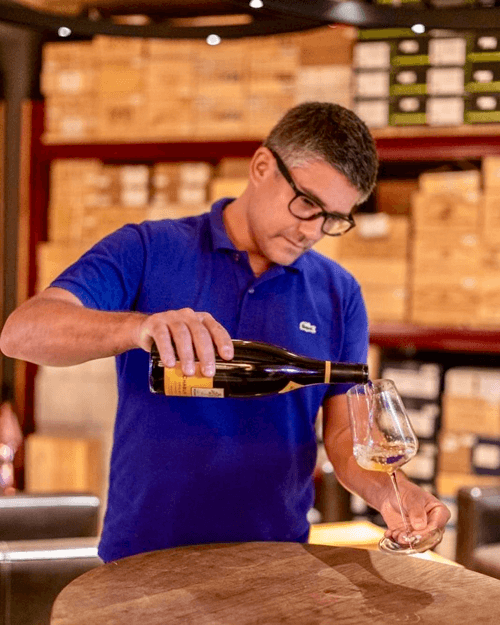 Yann has a passion. He is driven by what fascinates him, transcends him, transports him: terroirs, vine, wine and the people who make it. While nothing prepared him for this profession, even though he has always had a certain appetite for wine, his passion has grown little by little until becoming the center of his life. Yann is sensitive, open to discoveries, eager to train and a tireless entrepreneur. He has built up his project progressively through encounters and opportunities allowing him to exert his natural benevolence and his taste for friendship and sharing. Let's meet Yann Rinaldo, cavist at the Cave du Port Franc.
Originally from Marie-Galante in Guadeloupe, Yann grew up in mainland France and studied business in high school. An artist and polymath, he studied at the ATLA professional music school and made his first album in which he sings and plays the guitar.
Since he loved travelling, always driven by discovery, he became a flight attendant with Air France. He worked there for 17 years.
At the same time, his taste for wine took shape and he decided to train as a sommelier. After an internship in the Champagne region, Yann self-financed his training at the WSET (Wine and Spirit Education Trust).
Willing to share his knowledge and pass on his emotions related to wine, he trained and taught Air France staff the art of wine.
When his child was born, Yann decided to change his life completely. As he knew the West Indies and was enticed by the island, he accepted a position in St. Barths in 2017.
After 6 months, wishing to continue training, he left for mainland France and got a degree in viticulture and oenology in the Jura region with a specialization in organic agriculture.
But when you've had a taste of St. Barths, you want to get back!
In August 2019 he came back to St. Barths, and quite naturally he started working at the Cave du Port Franc, seduced by its quality and service. Simultaneously importer, agent, buyer and sommelier, working at the Cave du Port Franc was fulfilling for him. Very quickly he stood out with the training he gave to restaurant staff, sommeliers and private individuals.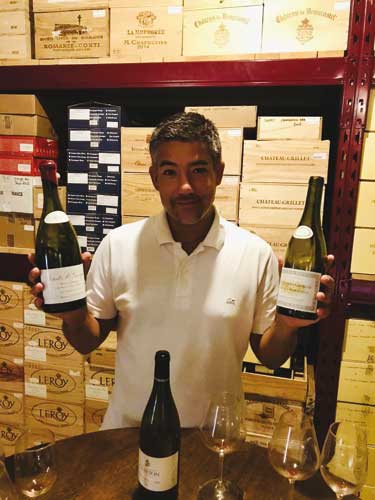 "I love sharing my passion. Wine is magical: from the soil to the plant, the sap transforms matter into liquid. We feel and share emotion, we travel, we create desire, we take pleasure. This is my truth."
Yann has been nurturing his heart's desire for some time: creating a training structure to introduce tasting, adding to sommelier training.
His approach is to create food/wine pairings by explaining the chemistry of food and wine and offer tastings on various themes, such as grape varieties in different latitudes and different terroirs.
He will introduce vertical tasting, a trip through vintages, and horizontal tasting to discover an "appellation".
"Vertical tasting refers to the same wine, of the same "appellation", the same estate and the same grape varieties, but from vintages of different years. The principle consists in travelling in time through different vintages by comparing the wine's evolution, a bit like you would do with yourself or one of your relatives by browsing through old photo albums. This kind of tasting is very instructive, not only to train your palate to distinguish a young wine (fruity aromas, marked tannins) from a more mature wine (tertiary aromas, rounded tannins) but also to learn how to identify an average quality vintage, a good vintage and an exceptional vintage" Yann explains.
"If you attend a tasting where you can discover several wines from the same "appellation" and vintage, you are participating in horizontal wine tasting. Indeed, horizontal tasting refers to a comparison between several wines of the same designation "appellation". They are organized to discover the characteristics of a terroir, its grape varieties and vineyards."
Yann will also offer initiation to tasting for new amateurs.
He systematically connects the whole content of the training courses to viticulture methods and the chemistry of wine, fermentation, yeasts, phenolic components of wine… "I think that you cannot understand wine if you don't understand the soil, the plant and how they work. 90% of a great wine is made in the field, in the vineyard. The aim is to let nature take its course as much as possible once the harvest is in the cellar. The harvest must be in irreproachable sanitary condition to make the best wines, and balances (sugars, acids, bitterness, polyphenols, etc.) must be met. »
Since he is attentive to customer needs, Yann can adapt to the demand, whether it is just desire for a good bottle or a more academic tasting.
These training sessions will take place at the Cave du Port Franc that enthusiastically welcomes this project, bringing even more expertise and service to customers.
Yann also plans to go to villas, with the possibility of involving chefs if necessary for food and wine pairings.
"It's all about getting people to enjoy, learn and share."
As he aims at promoting French wines in particular, the name chosen for his future training company is quite appropriate: "Vin-Blanc-Rouge Formation".
To follow in the coming weeks!