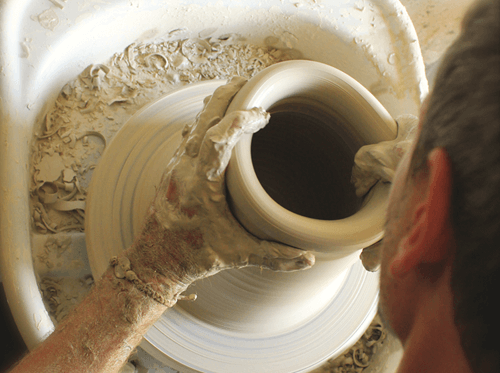 Pottery, or ceramics, is a special art. Igor tells us about how his passion brought him to St. Barths.
"I am the grandson of a designer and I have always had this impetus for creating. When I was 7, I discovered pottery and I was fascinated by the potter's wheel. This turning object appealed to me but teachers did not take the time to show me and preferred to introduce me to modeling, like other young children.
Around the same time, I went on vacation for the first time to St. Barths. This is where I met one of my mother's friend: Stanislas Carrelet, the island's potter who practiced there until the late 90s. It was the stimulus for me to realize I wanted to live in St. Barths and be a ceramicist.
I continued my journey in Paris where my family was living, with this dream in mind.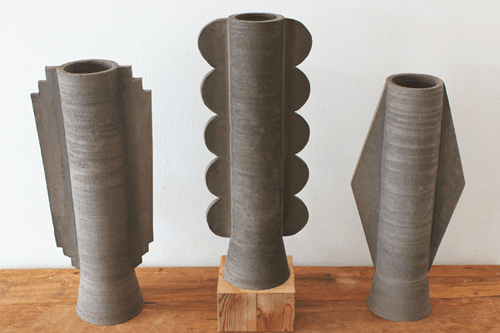 When I was 17, I was finally introduced to turning in the "Pilos" workshop in the 18th district of Paris, where I studied for a year. I learned quickly, very quickly and I felt that I had to find a master turner who would help me get the best of myself. I then met ceramist Augusto Tozzola, who became my mentor. For several years, he taught me how to observe, repeat the same gestures and produce shapes in series. My eye sharpened, my gestures got better and I exhibited my first collections.
I opened my own workshop in the 17th district of Paris, as well as a caterer's and then 3 Italian restaurants, but I still felt cramped in this Parisian routine. My son's birth made me realize that I had to make my dream come true: being a ceramist in St. Barths. After several round trips between metropolitan France and the island, I sold everything I had in Paris in 2018.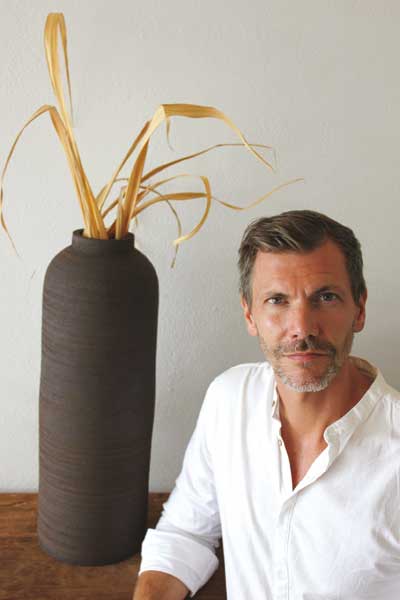 At 37, I finally moved to St. Barths with my family. Because I live in an environment close to nature, I can immerse myself a little more in my art. I can think and create slowly because ceramics is an art that requires patience and focus. The production process is very long, as it takes more than a month, between manufacturing, drying, firing and finishing.
I really enjoy being in direct contact with clay, materializing imaginary objects in matter and working all day with my wife, also a ceramist.
I have just finished my 1st collection of unique white and black pieces, entitled "Trophies", partly inspired by the "art deco" style for its symmetry, geometric shapes and cut stone effect. I chose to work with chamotte sandstone which allows this collection to be as raw as possible.
My 2nd collection is in progress. It will be sculptures: large colorful ceramic totems. "
We can't wait to see it!