Have you heard of animal osteopathy? Who would have thought that this discipline, already quite new for humans, would be used with animals?
As for humans, animal osteopathy is a general re-harmonization of the animal's structures and tissues. Its goal is helping animals regain mobility by taking their full body into account. It aims to prevent and treat functional disorders. "It's almost the same as human osteopathy with the difference that animals do not speak. We must therefore observe them a lot (allure, behavior, reaction, character…) and 'understand' them with our hands."
Manon has been practicing this profession in St. Barths since November 2020, right after she graduated.
It is not a job chosen by chance. This young 25-year-old woman has loved animals since she was a child and has been surrounded by all kinds of animals: dogs, cats, horses, rabbits, turtles, birds….. "Being with animals has always fascinated me. I grew up surrounded by my little companions and have always loved their sensitivity. I had a good feeling with them."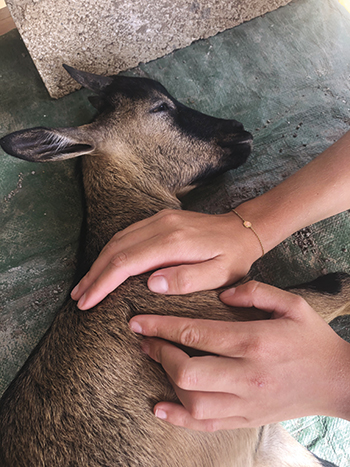 Manon discovered this discipline with her limping pony. "Despite all the vet exams, x-rays/echo, we couldn't find the problem and the osteopath helped a lot." Manon was seduced by the awareness, softness of gestures as well as the treatment efficiency.
"I was hooked right away. I wanted to work with animals, take care of them, but I couldn't stand the blood and the surgeries that vets have to do. I am a very sensitive person and I would not have been able to perform euthanasia even if sometimes it's the best solution. When I found out about animal osteopathy, I knew this profession was made for me."
After growing up in St. Barths and then in southern France, Manon began training at the ESAO (European School of Animal Osteopathy), immediately after high school in Toulon.
She returned to St. Barths with her diploma and registered for the aptitude exam of the Council of the National Order of Veterinarians (CNOV).
Now settled in Colombier, she is always surprised by the nice welcome she gets, and by the enthusiasm for her discipline. She works in close collaboration with the veterinarians on the island, but also in St. Martin, where she consults every month in a pet shop.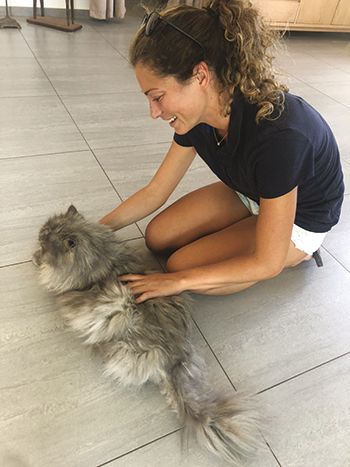 The care protocol is well set up: she observes the animal, its movements, reactions. Before anything else, she asks the animal if she can touch it. "Unlike humans, animals don't decide to have their session at a specific moment, that's why I systematically ask them for permission to touch them. Most of the owners answer 'don't worry he is nice'. But even the nicest dog in the world may not want me to touch him. When the answer is positive, I start the session, but when it is negative, I prefer making the decision to leave and start again another time. If the animal is not cooperative, the session will be useless and the result will be poor."
Once the authorization is given, Manon begins the palpation phase, the testing phase and then gentle manipulations. "Each session is unique, I let myself be guided by the animal's tissues in order to free the areas in pain and allow the body to heal itself. We deal with everything: bones, viscera, emotions with different techniques of tissue manipulation, structural, facial, cranial and energetic. It's a very thorough discipline, which we practice thanks to the connection established with the animal. What I like most about osteopathy is its holistic approach that takes into account the physical, emotional and energetic body."
But an osteopathy session does not replace a consultation with your vet if your animal needs it.
The effects on animals can be very obvious as well as very subtle. "For example, there was a dog that could not scratch its ears with its hind legs, but it was able to do so immediately after the session. Another example is a dog that would not let his head be touched to the point of becoming aggressive, once the session was over we could stroke his head without any reaction from him. Sometimes the effects of the session can take longer (they can be observed several days after the session). For example, a foal that I treated in France had great tensions at the level of the withers as if he had fallen on his back. It was very clear that he had a growth delay compared to others. The effects were not very obvious but a month later the difference was obvious. It has developed very well and will need a second session to check if everything is ok so that it continues to grow in the best way.
A real passion. Manon is a volunteer with the Territorial Environment Agency (ATE) and takes care of the fauna in St. Barths. "It's not just cats and dogs," she says with a laugh. "I also care for iguanas, tortoises or injured birds."
Her projects: to keep growing in order to help our small and big companions.
Box:
"Keep it pure boys, keep it pure."
A.T. Still
ANDREW TAYLOR STILL, Animal Osteopathy founder
Andrew Taylor Still, the son of a doctor, was born in 1828. He wanted to develop a new medical approach complying with the laws of nature and life which would become osteopathy. He was inspired by homeopathy, which already existed, and by mechanics. In the course of his research, he discovered more and more evidence that many diseases are caused by loss of mobility of joints, muscles, but also organs and other tissues, and that remedying these losses of mobility leads to healing.
In 1892 he founded his school: the "American School of Osteopathy" in Kirkville.
The osteopathic treatment created by Andrew Taylor Still is based on the principle that only a living being whose parts have complete freedom physiologically can maintain a functioning, healthy body.
He was convinced that when all parts of the human body are in order, there's health. When they are not, there's disease. The osteopath's work is to restore a normal situation in the body from an abnormal situation: the result will be health.
Osteopathy applied to horses came in the 70s thanks to Dr. Dominique Giniaux. Today, osteopathy is present in all equestrian disciplines and is also more and more requested for treating dogs.
Animal osteopath – Osteo Animaux (osteo-animo.fr)