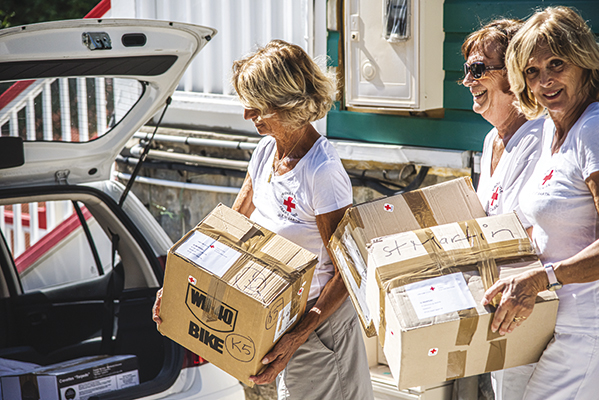 Can you tell us about the activities of the Red Cross in St Barths?
The Territorial Delegation of the Red Cross of Saint Barthelemy is represented by a team of 18 volunteers who provide the following activities in the territory:
– A solidarity shop (La Vestiboutique) offering a wide range of clothes, household linen, crockery, toys and books at very low prices. All the items come from donations from the island's inhabitants, shops and companies.
– La Vestiboutique is visited by an average of 50 people each time it opens: 3 times a week.
– Introduction to first aid (PSC 1 training). PSC 1 training aims to acquire, update and improve knowledge of first aid.
– School support : Helping with homework, assisting children to overcome school difficulties.
– Material, food and sanitary aid for people in financial difficulty.
– Prevention and health screening (diabetes, hypertension, obesity, HIV) in collaboration with the Red Cross of Saint Martin.
– Helping charities in Saint Martin : Donation of clothes, childcare equipment and toys.
How long has this association existed and what was its genesis? Historical part
Creation of a branch of the Guadeloupe Red Cross in Saint Barthelemy in 2005 under the impulse of Wanda LACHOVIEZ. An independent territorial delegation was then created in 2008 with the volunteering of our current premises by the Collectivity. At the beginning, the main activity of the Red Cross of St. Barths was First Aid. The delegation took on a new dimension in 2010 on the occasion of the earthquake in Haiti. An appeal for donations (clothes, linen, shoes, crockery, toys…. ) was launched to help Haitians in collaboration with the Lions Club.
It was at this time that La Vestiboutique de Saint Barthelémy was born thanks to the impetus of its President Henri LOUIS and his team.
Are there any other humanitarian associations in St. Barths ?
I can think of a few: Lions Club, Rotary Club, Help St Barth. I guess there are others.
What are the key actions carried out in recent years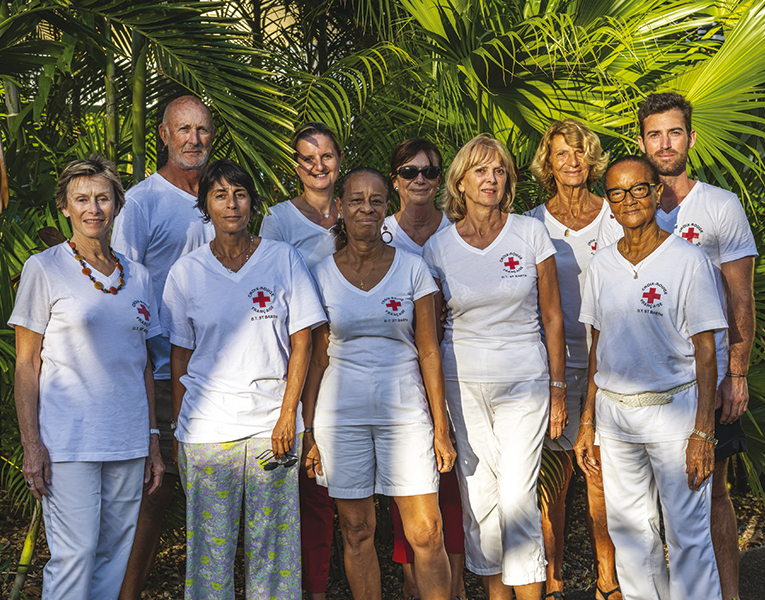 First aid training offered to the island's population. We train about 70 people each year.
Awareness-raising in primary schools of first aid (75 children trained in 2020).
Training of teachers in Prevention and First Aid, level 1.
Purchase and installation of 12 defibrillators on the island.
Helping to rebuild 7 St. Barth houses destroyed by Hurricane Irma, in collaboration with the association Help St Barth, the Lions Club and the Collectivity (Pelican project).
Setting up a stock of emergency equipment on the island to deal with natural or health hazards or other accidents: tents, cots, tarpaulins, lighting kits, mosquito nets, blankets, generators, satellite telephones, cleaning kits, rationing products…..
Presence at Gustavia Airport during the 2-month lockdown (in 2020) in order to make travellers aware of the need to respect lockdown and security measures and to submit them to a health questionnaire issued by the Prefecture.
Implementation of solidarity baskets (basket with food and hygiene products for 1 person and for 1 week) from April to the end of June 2020 to help people affected by the Covid-19 crisis on the island. 215 food baskets were distributed.
Today we help the Red Cross of Saint Martin organize the Codiv-19 screening center installed in Saint Jean since mid-December 2020, in the reception hall, accompany and listen to the people who come to be tested.
And how has Covid affected your activity?
Although this health crisis forced us to close La Vestiboutique for 2 months (March 15 – May 15, 2020) and stop our rescue training (which stoppage is still in effect today), this pandemic has allowed our association to respond quickly to emergency situations.
– Presence at the airport for risk awareness
– Food aid to help people in difficulty
– Covid-19 screening center
The Covid-19 pandemic has allowed us to highlight our presence on the island and our adaptability.
We are more in contact with the population. We have a lot more exchanges with the people and we're closer to them.
What is your view on emergency or humanitarian situations in St. Barths? How many people are reached by your help?
Although the island is small, it is experiencing emergency situations for which our help and support is necessary. As an auxiliary of the public authorities, we frequently act in collaboration with the Collectivity and the Prefecture.
We are guided in our work by 7 fundamental principles: humaneness, impartiality, neutrality, independence, voluntariness, unity and universality.
You have just taken over the presidency :
Can you describe your background and your link to St Barths, and more particularly your humanitarian commitment ?
What are your priorities for your new term ?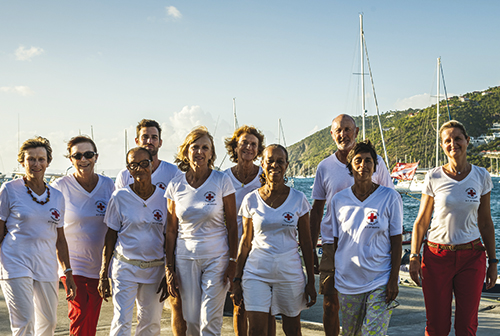 After 20 years in the luxury hotel business on the Normandy coast, I wanted to take a "professional break" when my family moved to Paris. For a long time I wanted to get involved in charity work on a voluntary basis. This geographical change gave me the opportunity. I joined UNICEF as a volunteer for two years. I arrived in Saint Barthelemy with my family in 2014 and following the passage of Hurricane Irma I joined the Red Cross of Saint Barthelemy in order to participate in emergency actions, accompaniment, and support alongside a wonderful, dynamic team.
I have been a volunteer for three and a half years now and it is a fabulous opportunity for me to work with a team on new projects and help our island evolve.
In the coming months, we will be committed to continuing our efforts and putting all our skills at the service of a common cause.
We will find resources in what we are, an Association, a collective project, a movement of citizens at the service of the most vulnerable.
I wish above all:
To keep advancing the history of the Red Cross of St. Barths by recruiting and rejuvenating our volunteers.
To keep ensuring the sustainability of the actions carried out to date (Vestiboutique, first aid training, school support… ).
To meet and converse with the elderly.
To fight against food waste.
To offer a digital workshop.
To be able to involve more school children in our activities.
To remain open to those who want to join us, be attentive to each other and kind to all.