Yoga teacher, creator and leader of the unmissable Saint Barth Summer Camp Yoga Challenge, which started 14 years ago… No need to fully introduce Diana in St Barths anymore. Indeed, you have had at least one yoga class with her, or at least know of a friend who had. She shared with us some of the things that drive her.
"Yoga opens a real path that leads us to meet who we are, with our traumas and pains, to observe and transform them. My goal is to guide this process of self-knowledge and self-liberation as best I can.
The relationship with yourself is the foundation of all other relationships. It is the starting point to change the world.
We learn to be where we are, to look with compassion and benevolent curiosity into that 'self', and to seek union – the true definition of yoga – with yourself, and then, with the other, leading to the trans-personal dimension.
After 3 years in psychology in Carolina, USA, Diana studied marketing, advertising, and fashion in New York. Both American and Ecuadorian, then naturalized French, she is at the crossroads of several cultures. This cultural diversity gives her a particularly rich openness and a quest between physical and spiritual.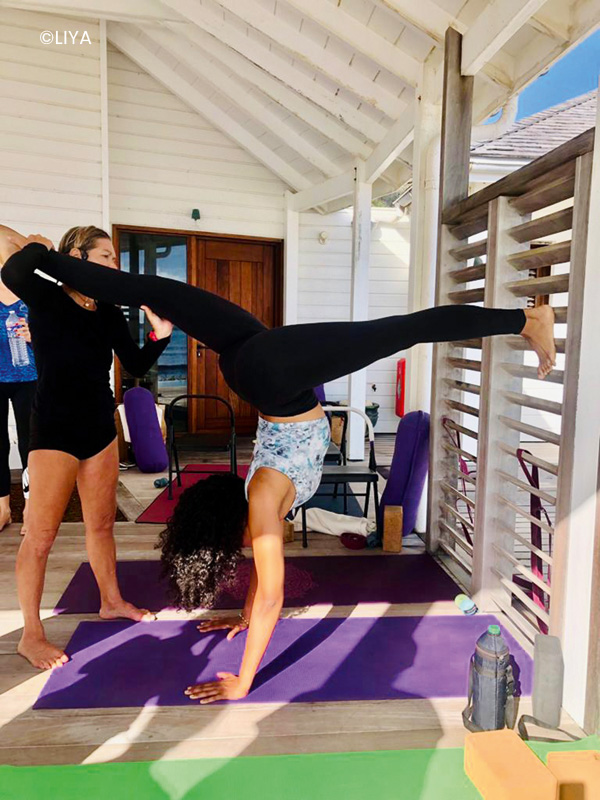 The fashion world took her to St. Barths, and it was the first time she went alone to a place she did not know, in 1986. She was seduced by the island and returned to settle in 1988.
"I started out as a writer for St. Barth Magazine and then for the Journal de St. Barth. But yoga was always there. I used to do it with my grandmother in Ecuador.
In St. Barths, I took classes with Stéphane Baillie and then Irene Jobert. I kept training in Paris with her, then I studied Vinyasa, hot yoga, Hatha yoga, Ashtanga and Yoga Therapy. At the same time, I trained in kinesiology with the Corps-Mémoire school in Paris, bioenergetics and regressions with Patrick Drouot, Chinese medicine with the Franco-Vietnamese Oriental Institute. The study of medicinal plants in a shamanic context followed".
With this diversified learning process, she could make her own mix and pass on unique lessons. She is also characterized by her own benevolence, which she shares with everyone in her classes.
Her students speak about her with tenderness and emotion.
To discover or rediscover.