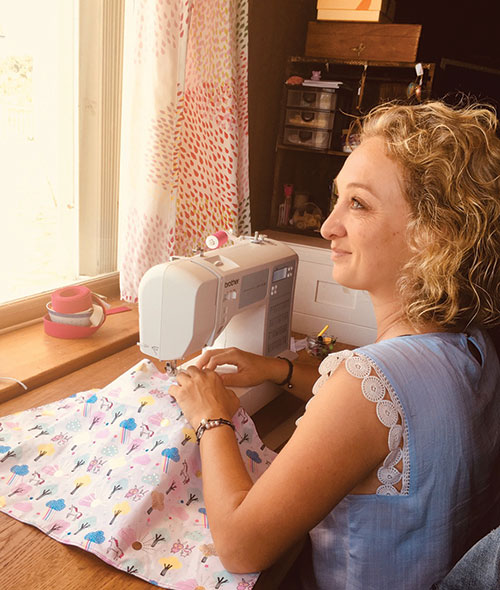 Is it possible to find what your passion is at the age of 36? Or discover passion for a manual job while it is completely new to you? Caroline Gettiaux shows that anything is possible and shares with us her desire to reinvent herself.
It all started 10 years ago: Caroline came back to St. Barths so she could help her husband's widowed grandmother. She didn't hesitate to quit her job as a project manager in a bank in Metz, France, to start a whole new life in St Barths.
During her two pregnancies, Caroline couldn't move much and had to look for some kind of manual activity to keep busy. Her interest in sewing started to grow and she bought her first sewing machine, although it was totally new to her. She would first create small bags, recycling second-hand clothes that she didn't like anymore, and also bought her first fabrics.
She then started to make baby accessories, since she could not find what she really liked in St. Barths. This is how she made her first comfort blankets, swaddling clothes and the famous bibs that led her to great success.
Indeed, for her daughters in kindergarten, Caroline designed bibs in a shape that children would easily wear, with selected fabrics and embroidered names. They were so practical, pretty and personalized that they quickly raised the interest of the lunch ladies and also other moms who started ordering them.
It was the beginning of success, and mothers of children from other sections, then from the whole kindergarten, wanted their own personalized bibs.
Caroline enjoyed the challenge of meeting these new requests and improved her creations, adding names in embroidery and using a wide range of fabrics. She decided to innovate with new models and expanded her work by learning new techniques. Little by little, she completed her production, created personalized birth gifts and customized gift ideas, invented new items ; orders started to flow.
Her brand named ILONACRE (anagram of Caroline) was born then and kept growing, surprisingly gaining in popularity.
Caroline found out she had creative abilities and imagination in creating models she had no idea how to make at first. She made and dismantled models to understand the secrets of their manufacturing. She enjoyed challenging herself in accepting orders for items she had never made before. She let her imagination guide her creativity. And from a simple request or a starting idea, she would finalize it, and always please her customers.
"I like reinventing myself with each new request; pushing my curiosity forward, looking for new ideas, methods or materials"
Caroline refrains from working on an existing garment or model (due to the fear of damaging it) and only works on creation, from fabric, that she would cut and assemble to complete the imagined project. Every time she travels, she fills her suitcases with fabrics selected with taste, and bought at small haberdasheries in Ardennes, France, faithful to traditional trades.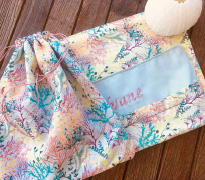 Beyond baby lines, Caroline now makes all kinds of fabric accessories, with eco-friendly awareness : organic bamboo sponge makeup remover wipes, bulk bags to avoid plastic, rolls of wipes made out of cloth and sponge … and any personalized request from customers.
Caroline is fascinated with other materials and studies vegetable leather, fabrics made of organic material, fabrics made of wood… She is interested in crochet and knitting which are likely to enhance her creations.
" I owe my success to my customers who have trusted me and allowed me to try new things, new models that I never imagined before. It has become possible thanks to the simplicity of life in St Barths and how easy it is to make encounters. »
Consider a 3-to-4 weeks' deadline, or more at Christmas, for your next personalized and original gifts, at a very affordable price.
To discover – or renew your orders – with no hesitation.
Claire Richer