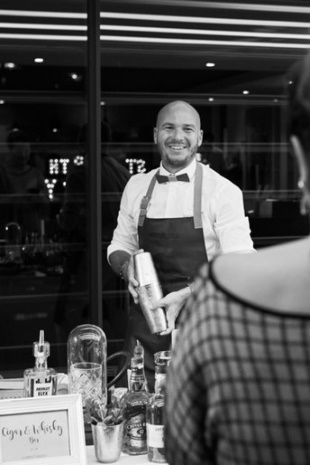 (Picture by Michaël Gramm)
"A cocktail is first of all a passion: passion for exchanging and creating, because a cocktail is above all a symphony of flavors and colors creating something special, a whole universe. Cocktails should please your eyes before your mouth."
That's the way Thomas describes his universe, his profession.
After a Hospitality / Catering education where he graduated best in his bartending specialization class, Thomas tried out his talent in luxury hotels between Cannes and Monaco as head barman. In Monaco, he had the opportunity to work with three-star chef Joël Robuchon. He also took part in many bartending competitions in France and abroad. After a season in St Barths in 1998, he returned 9 years later, and settled there with his family, eager for a more informal life in a pleasant setting.
After 3 years at the Baz Bar where he improved his knowledge of a mostly American clientele, he decided to create his own company, "Enjoy St Barth", offering private services at events, still in connection with bartending, especially for individuals, in villas and on yachts, and also for renowned brands on the island.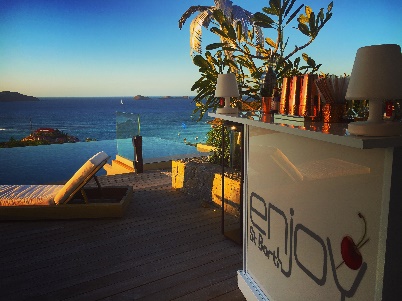 Thanks to a famous and loyal client, he entered a very privileged circle, with a new clientele that trusted him.
In addition to his private services, he developed a "consulting" branch. The bar world in St Barths is still recent but demand is high. He provides advice and expertise to establishments such as Nikki Beach and other bars in large hotels. He creates cocktail menus in collaboration with bar teams and helps with referencing in the supply of spirits, recruitment and staff training, while remaining attentive to each establishment's character and image. For 5 years now, he has also been Brand Ambassador for the "Prestige" range of the French spirits group Pernod Ricard in the Caribbean region.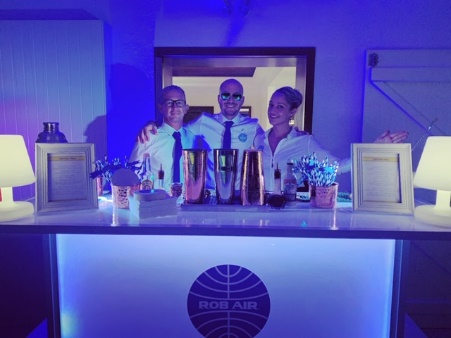 His passion and the evolution of the Bar world in St Barths quickly led him to organize competitions open to all bartenders on the island. The first one took place in 2012. Since then, the "Enjoy St Barth Bartender Contest", held during the now famous Gourmet Festival, has become a must.
Creativity and inventiveness fascinate him. Lack of routine motivates him: Each event is different, each new task warrants audacity to represent the client's character and identity.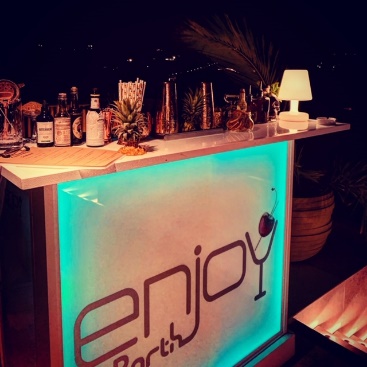 Creating a cocktail is first telling a story, from the name, the appealing visual, then the bartender's approach and style. When clients want more of it, it is a sure sign of success.
Thomas plays with his universe: from creation to the choice of glassware, everything has to be in harmony and maintain coherence.
The "Avion" tequila is among his favorite spirits, made by the company "Avion" that some of the island's bartenders have had the privilege of visiting in Mexico for a few days. Rum is another favorite, in particular Marie Galante's "Père Labat" or the Simon house's "A1710" in Martinique. He surfs on trends that evolve over time: quality products that leave room for the essentials.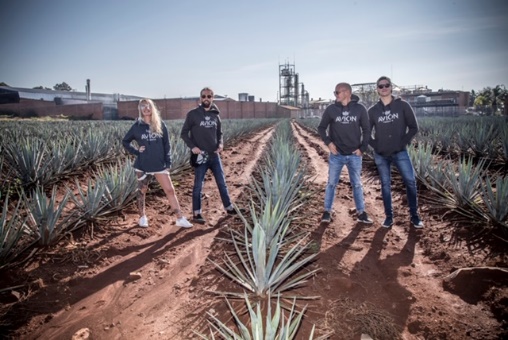 Visit of the "Avion" distillery in Mexico.
Like a cook, a pastry chef or a sommelier, the bartender works with heart and passion.
Thomas, enthusiastic, laughing and playful, will make your evenings sublime, delighting you with his incredible flavors colors and savors.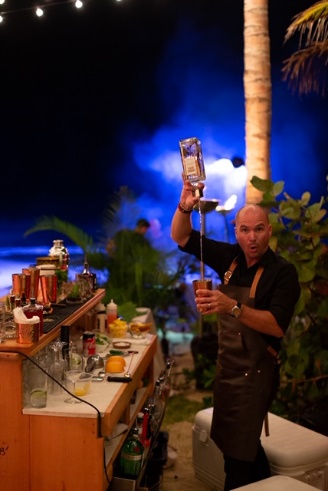 (Picture by François Vochelle)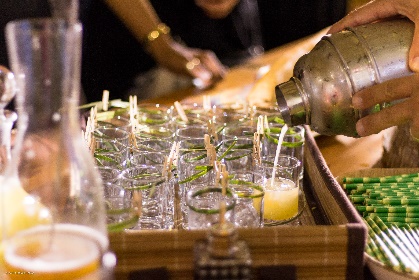 Cocktail creation for the launch of Rhum A1710 in Martinique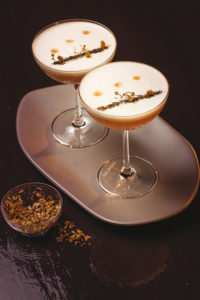 « Mar Tea Ni »
Cocktail created by Enjoy St Barth for "The Mixx" in Las Vegas
5 cl of Gin infused with Bergamot tea
1.5 cl of freshly squeezed lemon juice
1.5 cl of homemade Vanilla syrup
1 cl of Aquafaba
3 hints of Cardamom Bitter